I-League
I-League 2017: Shillong Lajong's Thangboi Singto - Focus on performance, results will take care of its own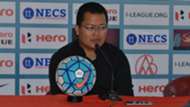 All was not rosy when Shillong Lajong's head coach Thangboi Singto turned up for the pre-match press conference ahead of their round nine I-League encounter with East Bengal in Siliguri.

Singto threw a tantrum when he was instructed to finish off his team's training session two minutes past nine o' clock citing lack of proper scheduling for the twin sessions conducted in two days at the Kanchenjunga Stadium. He even threatened to not attend the press conference but came anyway as he calmed down in time.

The Reds started from Shillong at 6 o' clock on Monday morning as they undertook a road journey to reach Guwahati airport before landing at the Bagdogra airport around noon. 
Morgan not here to help Indian team

"We reached the hotel at around 1 o' clock and we had lunch thereafter. After some rest, we reached the ground to start training at 4:30 pm and finished up an hour later," Singto explained.

He further added, "Even today we asked for an evening session but did not get that. We just look for the coaches' and players' concern. I think the timing could have been better. We respect that they have to maintain the ground. If it was at our home, things could have been the same so no problem."

Placed fourth on the table, Singto has named the same starting line-up for the last five games but indicated there might be a couple of changes after their 1-2 loss at home to DSK Shivajians.

"There might be some changes. If you look at the players where they are continuously playing four-five matches there comes a time when they physically might get tired. But every coach wants to stick with the same mantra," he commented.
Bengaluru FC could do an East Bengal 08/09 repeat

East Bengal being undefeated and on top of the table, the former SAI coach conceded that by no means they will be taking the game lightly.

"You look at the goalkeeper, TP Rehenesh is top-class. Their midfielders and foreigners are India internationals and high-quality players. It is a great challenge. Besides that, if you look at their bench, they have the strongest bench in the league"

"East Bengal being on top of the table, it won't be any easy for us. We have to play good football.  First we have to focus on performance, hopefully, results will take care of its own.  We are always under pressure to perform," he expressed. 
AIFF start search for Adam's successor

The former NorthEast United assistant coach downplayed his team's over-reliance on Cameroonian striker Aser Pierrick Dipanda, who leads the goal-scoring charts with seven goals.

"He (Dipanda) might be the top-scorer in the I-League but we don't want to rely on a single player. Hopefully, other players come up and contribute. If one player performs and others don't then how will you make it as a team," opined Singto.

Lastly, apart from answering questions in English and Bengali, Singto surprised the gathered scribes with an appeal for the local Siliguri-based Nepali speaking people to root for his side. This shocked the entire room as he spoke all three languages fluently, with none being his own mother tongue, which is Manipuri.

"To all the people of Siliguri, I know that many East Bengal supporters will come for the match but we Lajong is also a team from the north-east and Siliguri is the gateway for the north-east. I hope you all come to the ground to support the boys who will put up a good show," he concluded.