I-League
I-League 2017: Sanjoy Sen: "If that was not a penalty, then there shouldn't be any penalty in football"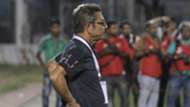 Mohun Bagan romped to the summit of the 2016-17 I-League table with a 1-1 draw away at Shillong Lajong FC but Sanjoy Sen was visibly upset that his side was denied a penalty by referee OP Thakur in the first half.

"If you are disallowed a genuine penalty, frustration comes to the players' minds. A ball striking the hand inside the penalty box - If that was not a penalty then there shouldn't be any penalty in football," the Mohun Bagan head coach said in exasperation after the game.

He added, "I don't need to mention the name of any player but it is definitely a penalty. Their coach admitted after the match that the ball struck the hand so if the referee can't see then you can't help. Regarding how a penalty I'm not complaining whether it was a handball or not I'm not complaining but it was exposed. All the 6000-7000 crowd knew. Only the referee couldn't see it."

Sen though did not douse any question marks on his side's ability to be more clinical in front of goal. "Maybe. But in the first half, they created a lot of chances and we were under pressure, definitely first 20-25 minutes we were definitely under pressure."

"Our players failed to adjust to the pitch, maybe the bounce of the ground but they slowly adapted and came back into the game and created chances but what I feel is that one point is also good for us," he explained.

Asked whether it was becoming a trend for Bagan to falter at crucial times of the season, Sen, whose side had drawn 2-2 against Lajong last season too giving away the title, gave a mixed answer.
Shillong Lajong 1-1 Mohun Bagan - Fatigued Mariners go top of the table in spite of sordid showing

"Maybe, maybe. It happens all over the world and I told the boys after the East Bengal match we are going to play a more difficult match, Lajong match will be more difficult than this derby so I know what can happen. The boys tried their level best, they fought till the end. Even in the last 5 minutes, we created a number of chances but in football if you cannot score with the chances you get, you cannot win. Let's see in the match against Minerva," he said.
He also had a nice comparison on hand when asked about Sony Norde's injury status.
"I don't know. This is not instant readymade coffee. we have to go to the dressing room and then talk with the physio and then we can answer these questions. There are no readymade answers for these kinds of questions on player's injury," he quipped.
Sen also brought Manchester United manager Jose Mourinho into the picture to convey the message that sometimes managers don't have answers to convert draws into wins.
"Jose Mourinho, how many matches has he lost on their home ground? How many matches have they drawn in their home in Old Trafford, how many matches has he won? It happens to all the teams. The top coaches have no answer and I also have no answer why these things happen. One point is good for us okay."
Speaking from the other camp, Shillong Lajong gaffer Thangboi SIngto rubbished claims that he had admitted the penalty to Sen.
"I admitted (the handball)? I never said that. Why would I say that? Because I didn't see that also (handball incident). I have four eyes but I didn't see it sorry."
That certainly adds more spice to the aftermath of the clash that seems to have added a possible twist to the already intense title race!