I-League
I-League 2017: DSK Shivajians' Dave Rogers - 'We were the dominant team against Mohun Bagan and the draw feels like a defeat'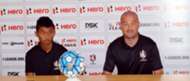 After the goalless draw between DSK Shivajians and Mohun Bagan in a round five clash in the I-League on Tuesday at Pune, both the coaches felt that their side could have come away with all three points. 
Mohun Bagan coach Sanjoy Sen felt that his side was poor in the first half and improved after the break. He said, "Actually, the game was very good. There were ups and downs. Both sides got chances and missed them. We struggled in the first half but we came back strongly in the second half. We could have won the game also -  (Katsumi) Yusa missed a sitter, (Subashish) Bose struck the post. Same thing happened to them also and we did not concede thankfully."
"In this league, you are always going to lose points but the important thing is keeping on trying to win," he said when asked about The Mariners' winning streak coming to an end. 
Report: Shivajians 0-0 Mohun Bagan
The 56-year-old went on to defend his star player Sony Norde, who had a disappointing outing. "(Sony) Norde did not have any fitness issue. He was running with the ball but struggled in the game. It happens to any player." 
The 2014/15 I-League winning coach also focused on the positives after several challenging games his side has had to face recently. "It's good that we had to face tough games. When we struggle and somehow manage to win, it is good for us," he insisted. 
DSK Shivajians' head coach Dave Rogers, meanwhile, claimed that he was disappointed not to have won. He said, "Tonight's performance is not a surprise to me at all. After every game, we are improving. We were the dominant team from the kickoff tonight and it feels like a defeat, to be honest. We've battled and outplayed a really good team." 
The Englishman was also baffled by the referee's decision to disallow a goal they scored in the second half when Sasa Kolunija was penalised for impeding the Bagan defenders during a Juan Quero corner. "We scored a great goal as well but only the referee knows why it was disallowed."
Football not yet the most popular sport in India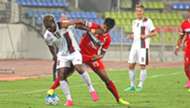 When asked whether there was a specific plan to nullify Sony Norde, Rogers answered in the affirmative and gave an insight into their preparations. "I'm being paid for devising the tactics. That's what top coaches do. We analyse every team that we come up against. We do it over a couple of weeks,'' he claimed. 
"We played five at the back to combat their front four (Duffy, Norde, Jeje, Yusa). If you give good players space, they'll hurt you. So we nullified them and restricted space. Young Sairuat Kima who came into the side did a really good job. He played the first game away to Mumbai and then had less chances. But for me, he was colossal at the back. Sasa (Kolunija), Nirmal (Chettri), Jerry (Lalrinzuala) and Gouramangi (Singh) were all good," he expressed. 
"We're unbeaten for 3 games now. It's a marathon and not a sprint. We have fantastic team spirit and we have started the season well. We're developing these boys the right way," the 41-year-old added. 
Rogers also gave an update as to the fitness of midfielder Shane McFaul and goalkeeper Subrata Paul. "Shane (McFaul) was ill after the last game. He should join us soon. Subrata (Paul) has a slight injury and we'll bring them back when they are ready," he concluded.