I-League
I-League 2017-18: Soundararajan wants to prove a point against Indian Arrows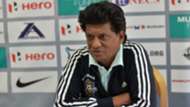 Chennai City FC will be hosting Indian Arrows in an I-league clash at the Jawaharlal Nehru Stadium in Coimbatore on Saturday. Arrows got the better of Chennai in their first meeting when they humbled the southern side 3-0. V Soundararajan sounded adamant to turn the tables this time around as he wants his troops to prove a point. 
"This match is a prestige match for us. We have to show that we can beat Indian Arrows and we are going all out.Tomorrow (Saturday), we are playing against a world cup team and we are going to approach the game differently," said Soundararajan.
The head coach also confirmed that he has made some tactical changes to his side and they will leave no stone unturned to seek victory on Saturday.
"It is a crucial match for us. Tomorrow we are going to play a different kind of football as I have made some tactical changes. In the previous match we played 4-1-4-1 formation, but now we will not stick to that. We have had rest and have practised well in the rest period. We hope to register a comfortable win," stated Soundararajan. 
The former Tamil Nadu midfielder accepted that his players were lethargic in their first match and had taken Arrows lightly which caused their downfall.
"It was our very first match and we had only four foreign players with us. We took the game very lightly and had a lethargic approach. After seeing them play, we recognised that they are a very tactically sound side. Now our team has settled very well and we are going to go all out to win," expressed Soundararajan. 
Meanwhile, Indian Arrows head coach Luis Norton de Matos acknowledged that Chennai City have improved a lot since they met earlier in the season. 
"All matches are different. That was the first match for both the teams. They have improved a lot since then. They have become more consistent. They will try to show that the loss was an accident. We will try to play good football and get a win," said Matos.
The former Benfica B coach once again stressed that their primary motive is to gain experience by playing a top-tier professional league rather than competing in the U-18 category.
"I prefer to lose games in the I-League rather than playing in the U-18 league. That league is no competition for us," reasoned Matos.
The Portuguese coach stressed that they have to improve their goalscoring skills as their finishing has often let them down.
"If we score the first goal, there is more possibility to win the match. If we don't score and concede a late goal, we go on to lose the match. The positive thing is that we are creating opportunities to score but the negative is that we are not able to convert. We are working on that," signed off Matos.