I-League
I-League 2017-18: Shillong Lajong's Alison Kharsyntiew happy with draw - 'Chennai City dominated the game'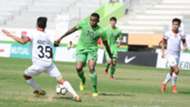 Shillong Lajong head coach Alison Kharsyntiew is happy with the one point his team obtained from their fixture against Chennai City in I-League on Sunday.
The coach said that their opponents dominated large parts of the game. "It was a very difficult game. In the first half, Chennai played very well. Even in the second half, they dominated the game. But we defended well."
"Our attacking was very slow but I am happy with one point."
Lajong have been inconsistent this season and the upcoming matches have become even more important after the draw against Chennai. 
"We have two more matches at home. We have to beat them at home. At the moment, we are on 18 points and it is not safe for us.
"I am not overconfident but I am confident that my team will perform well," said Kharsyntiew, who reserved special praise for his defender Aiban.
"Our defender Aiban performed very well today. I am very happy with his performance."
Chennai City head coach V Soundararajan rued his team's profligacy in front of goal yet again. His team is now winless in eight games, with Jean Micheal Junior and Soosairaj failing to convert chances against a defensive side in Lajong.
"We missed a lot of good chances. Even though, he (Joachim) is the top scorer for us, the last 5-6 matches he has not been up to the mark. Joachim and Soosairaj are missing a lot of chances. I think maybe he (Joachim) is under pressure. He (Soosairaj) is a very good dribbler but the last touch and the delivery are very important. That is the only problem," lamented Soundararajan.
"The match against Churchill is a defining game for us so we have to prepare well," said the coach of Chennai City.