I-League
I-League 2017-18: Khogen Singh on Koffi's disallowed goal - It was definitely not a goal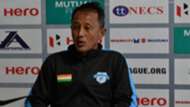 Minerva Punjab strengthened their position at the summit of the I-League table by beating Shillong Lajong 3-2 at home on Wednesday afternoon. Gagandeep Bali's brace and a strike from Guy Eric Dano confirmed full points for the Warriors. Daniel Odafin and Laurence Doe scored for Lajong.
It was an end-to-end contest at the Tau Devi Lal Stadium as Lajong came back from a 0-2 deficit to level the score. But an 81st-minute winner from Bali handed his team a vital win.
Speaking about the game, Minerva coach Khogen Singh said, "The match was very tough. Lajong have a very good No 9 (Samuel Lalmuanpuia) who is very good at set-pieces. So we had talked before the game to not concede any fouls near the box."
This was the second time in three matches that Minerva conceded two goals after a taking 2-0 lead. On his team's performance in the second half, Singh opined, "I think we relaxed after scoring the second goal. The boys thought they would get the win easily but Lajong are a very good side and they showed it."
Abdoulaye Koffi's late equaliser was ruled out by the referee for a foul on Minerva goalkeeper Rakshit Dagar. Lajong players protested vehemently as they claimed that Dagar went down only after the ball went inside the goal. Khogen Singh, however, shrugged off protests.
"The ball was in the hands of the goalkeeper and then Koffi fouled him. So it was definitely not a goal."
Lajong coach Alison Kharsyntiew, on the other hand, thought that referee should have awarded the goal. "It was a good cross from Samuel and Koffi headed the ball in. It was a slight contact with the goalkeeper but it should have been a goal. However, this happens in football and I would like to congratulate Minerva for the three points," said the Lajong boss.
When asked about the condition of the ground, Alison suggested, "It was very difficult to play a short game in this pitch. We had to play long balls."
Kharsyntiew concluded by saying that scoring goals were the positive for his side from today's clash. "The positive is that we scored a goal which was lacking in the reverse game. So hopefully, we will do well in the next game against Chennai City," the coach said.