I-League
I-League 2017-18: Defending champions Aizawl FC appoint Portuguese Paulo Menezes as head coach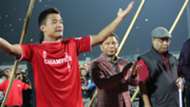 I-League champions Aizawl FC has appointed Portuguese Paulo Menezes as their new head coach for the 2017-18 season, as first reported by Goal . The 39-year-old is expected to arrive in Aizawl early next week to assume his new role.
The defending champions had been without a head coach for several months, with the club having earlier parted company with Khalid Jamil, who later signed for Kolkata giants East Bengal.
Speaking about the move, Menezes said that he felt the defending champions to be the right choice for him. "I have learnt about Indian football since 4 years ago and I have spoken to many people about it and how much it has grown over the years. I want to be part of this and Aizawl FC is right at the heartbeat of this crescendo of development".
IFA declares Abinash Ruidas contracted to East Bengal, AIFF reprimands ruling
The incoming coach also stressed the need to apply an organizational structure to Indian clubs, a la European teams.
"Clubs must be receptive to the idea of developing many departments- scouting, marketing and the most important thing, a youth academy. I believe that in order to be the best club in the country or this region, it is a must to build a strong academy."
Paulo Menezes was formerly a member of the coaching staff of the famed Spanish National team under Vicente Del Bosque and has experience at the biggest stages in the footballing world, including Confederations Cup, FIFA World Cup and European Championship.
Like his former boss, Menezes also prefers to play an attacking brand of football, with the primary focus being ball possession and retention.
" I will like my players to play the offensive game with a high level of ball possession so that they can create many scoring chances.  Depending on the game situation, we will vary the tempo of our attack but the main focus is on ball [retention]."
ISL: Spanish defender Tiri confirms Jamshedpur move
Aizawl FC's new coach vows to draft as many players as he can into the Indian National team. "I will like to help the players improve their skills- be it technically or tactically, so they can become more competitive and maintain a strong mentality before and during the game.  I believe I can contribute to Indian football by getting as many of the local players into the National Team as possible.  I derive an immense sense of pride whenever I see my players put on their national colours."
Paulo Menezes, who helped with 'Analysis and Planning' during his stint with the Spain National team, has coaching experience with several lower league clubs from Spain and Portugal and holds a Spanish Level 3 coaching license. Aizawl FC