I-League
I-League 2017-18: Churchill Brothers raring to go against Shillong Lajong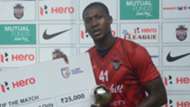 Churchill Brothers have picked up four points from their last two outings and coach Alfred Fernandes looked buoyant before his side take on North Eastern side Shillong Lajong in Goa on Friday.
"2018 is a good beginning for us starting with the [point] against East Bengal and then going away to Gokulam [Kerala FC] and coming home with three points. Now the confidence is very high and the boys are giving their best with the addition of three quality players (Hussein Eldor, Bektur Talgat and Cisse Gwada) in the squad. So the team spirit is high and hopefully tomorrow (Friday) we come out with three points," said Fernandes.
The Goan stressed that they have to take advantage of their upcoming home games to strenghten their position on the table.
"Yes (three matches in hand is an advantage to reduce the gap between teams above) and that is what I have been reasoning with the players in the training session. I have infused in the minds of the players that we are the ones who have played the least number of matches and we have a maximum of three matches in hand. Three points from each of these matches make nine points, which will lead us to the mid-table [standings]. We are very hopeful with the strength of the squad. The boys are raring to go and I'm very confident about our (five back-to-back) home matches now," he stated.
The former Churchill Brothers' youth development coach informed that Jovel Martins and Suraj Singh are out injured, whereas Mechac Koffi has undergone special rehabilitation to be fit for the game. 
Koffi, who accompanied his coach to the pre-match press conference, also insisted that he and his team-mates are thinking only about getting the three points in their next game.
Instead of head coach Bobby Nongbet, assistant coach of Shillong Lajong Alison Kharsyntiew was present to take questions ahead of the clash. He acknowledged that his team would face a tought fight from Churchill after the Goan side bolstered their squad with some foreign signings.
"Churchill Brothers have been doing very well. They drew against East Bengal and won against Gokulam [Kerala FC] so it's going to be a tough match. They already had Kalu [Ogba] who is a good player. Maybe the new signings will make a difference. Koffi (Mechac) has scored against East Bengal and a penalty against Gokulam - so he seems to be in good touch. I don't know anything about their tactics but for tomorrow I'm sure that my players are ready to win 2-0," said Alison.
He informed that Lajong have the whole squad at their disposal as the team remains injury-free. 
Skipper Samuel Lalmuanpuia also echoed his coach when he said, "We have not come here for a vacation or to enjoy. We aim to give our best and go for three points."
Churchill Brothers are languishing at the ninth spot with four points whereas Shillong Lajong are currently placed fourth on the table with 14 points from 10 matches.