Zlatan Ibrahimović
I knew Ibrahimovic would come after me - Mings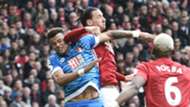 Bournemouth's Tyrone Mings says he knew Zlatan Ibrahimovic would retaliate after he stood on his head - an incident he insists was an accident.
Ibra's vicious elbow to cost Man Utd dear
The defender had several encounters with the Manchester United striker during the 1-1 draw at Old Trafford on Saturday. Mings was thrown to the ground by him off the ball before he stood on Ibrahimovic's head as he lay on the deck after a challenge. The Swedish star then elbowed him in the head as he jumped up to meet a cross from a corner.
Despite the altercations, both were allowed to stay on the pitch, though Andrew Surman was shown a second yellow card for pushing Ibrahimovic.
Mings maintains he had no intention of catching Ibrahimovic, but held no grudges against the "physical" attacker.
"No, [I didn't mean to stand on his head] not at all," he told Sky Sports. "I would never do that - that's not in my game. Hard and fair is how I like to tackle. Off the ball, stuff like that is not in my game.
"He just said: 'Well played, you're a good player' - no he didn't! Look he is who he is - he's a good player, he's a physical player and that's what we had all day. It was a battle. There was maybe an elbow, I didn't see it, I felt it. 
"I had a feeling [he would come after me] for the rest of the game. He's a physical guy and it was a good test."