eSports
How to buy FIFA 18 cheap: Play three days early and save nearly £20
Are you tempted to pre-order the Ronaldo Nazario-fronted FIFA 18 Icon Edition but debating whether or not it's worth the £90 price tag?
If you are - and you're playing on Xbox One or PlayStation 4 - we have some good news for you.
Arsenal to win ANY major trophy special
The Icon Edition comes packed with Ultimate Team features, including two Jumbo Premium Gold Packs every week for 20 weeks. That's 40 packs.
You'll also land one Team of the Week player on a three-match loan every week for 20 weeks, five-match loans of Cristiano Ronaldo and Ronaldo Nazario and eight special-edition FUT kits.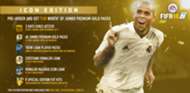 Oh, and you'll even be able to play FIFA 18 three days early - on Tuesday September 26 instead of Friday September 29!
It all sounds pretty enticing. But if you're not quite convinced, what if we told you it would set you back just over £70 instead of £90?
By following our three-step guide below, you can get the Icon Edition for nearly £20 off it's regular price. All you'll need is an email address, an online method of payment and FIFA 17.
---
1. GET 5% DISCOUNT AT CDKEYS.COM
---
The first step is easy - follow this link to CD Keys' Facebook page and stick your email address in their form to receive a 5% discount code.
You can unsubscribe from their mailing list later (scroll to the bottom of anything they send you and click the 'unsubscribe' link) should you so desire.
---
2. BUY CREDIT THROUGH CDKEYS.COM
---
Now head to cdkeys.com. Instead of paying for FIFA 18 directly you're going to buy PlayStation Network or Microsoft gift cards, which cost less through CD Keys than their actual value.
If you're buying for PS4: Purchase £50 and £30 PSN cards. That will get you £80 in credit at a cost of £73.98. Apply your 5% discount code and that comes down to £70.28.
If you're buying for Xbox One: Purchase £50, £25 and £5 Microsoft cards. That will get you £80 in credit at a cost of £75.67. Apply your 5% discount code and that comes down to £71.89 - a touch more than on PlayStation, but still nearly £10 off.
Now it's time to pre-order FIFA 18.
---
3. PRE-ORDER ICON EDITION WITH 10% DISCOUNT
---
Fire up FIFA 17.
There is currently an in-game advert running on the main menu screen offering the Icon Edition of FIFA 18 at a 10% discount, bringing it down to from £89.99 to £81.
Follow that advert and use the gift cards you bought from CD Keys to pay for £80 of that total, leaving you with a £1 balance to finish off by credit card or whatever you preferred method of payment is.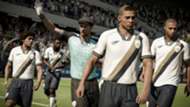 The total amount of money you have paid for the Icon Edition, normally worth £89.99, will be £71.28 on PS4 and £72.89 on Xbox One.
That's cheaper than the Ronaldo Edition, which costs £79.99 and only includes half as many Jumbo Premium Gold Packs and neither the Team of the Week nor the Ronaldo Nazario loans.
It's not even that far off the £54.99 the standard version of the game retails for without any of the bonus content or the early access.