Ghana
How Schweinsteiger and co. are helping Accam at Chicago Fire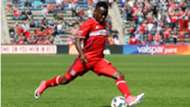 Chicago Fire attacker David Accam believes recent signings have contributed to his good form for the club this season.
The Ghana international has been outstanding in Major League Soccer, having netted seven times in 13 games thus far - only three goals adrift of his best season tally for the club.
Former Bayern Munich star and 2014 World Cup winner Bastian Schweinsteiger leads Fire's new recruits, which also include current MLS top scorer Nemanja Nikolic, midfielder Dax McCarty and Juninho.
"Yes, of course," Accam said, according to his club's official website, when quizzed on whether the impact of the new signings have helped his form.
"They draw a lot of players to themselves and for me, I just need to be in a good position to be the open man to get the ball. 
"So far, they're playing really well and creating a lot of chances for me. I'm trying to get to a good position to try to do my own thing."
Accam's success has not only been on a personal level. 
His goal, last Thursday, helped Fire beat FC Dallas 2-1 in MLS, taking the Men in Red to four wins on the bounce.
"I think this year, the biggest difference is that we keep the ball most of the time," Accam noted when asked about the differences between this season and last.
"When you keep the ball, you tire the opponents and you have a lot of space. For me, that's what we're doing best at the moment.
"We're just keeping the ball and try to get in open space, to an open man to play. So far, it's working for us."
Accam is in the last of his three-year stay with Fire.
He won consecutive Player of the Season and Top Scorer of the Season awards with Veljko Paunovic's outfit in his first two seasons.