Lionel Messi
How do you stop Lionel Messi? Filipe Luis happy to fill 'butcher' role at Atletico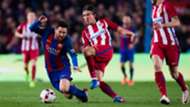 Atletico Madrid defender Filipe Luis concedes that he needs to adopt a "butcher role" when attempting to contain Barcelona's Lionel Messi.
The Brazilian full-back has faced the mercurial Argentine on several occasions for club and country down the years.
Atletico Madrid 23/10 to keep Barca clean sheet
He has learned the hard way that containing the prolific forward is easier said than done, with the 30-year-old boasting match-altering ability which few can match.
With that in mind, and ahead of another meeting with Messi in La Liga on Saturday, Luis admits that he either needs assistance or strong-arm tactics in order to even the playing field.
Luis told El Mundo: "I'm always in the 'butcher' role.
"But the only way to stop Messi one-on-one is to foul him. Otherwise, if I'm alone, I'll only get the ball one in 20 times. I have to use other weapons.
"I know the best way to stop him. I know he does not like playing with his back to goal, you must be right on top of him when he gets the ball. If he feels comfortable, you're dead.
"I feel I do pretty well against him when we play, although he always scores against us. And even with me being the bad guy when we meet, he never reproaches me, always shakes my hand after the game."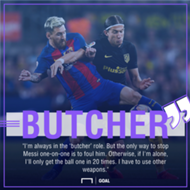 Messi has netted 27 times in 34 meetings with Atletico down the years.
Luis is among those to have struggled against the South American, with there a red card at Camp Nou in 2016 on his personal roll of shame.
He is by no means the only one to have come unstuck, though, with Messi a talismanic five-time Ballon d'Or winner who is capable of making the best in the business look ordinary.
"Messi is so good that he can win La Liga even with a mediocre team, which is not the case," added Luis.
"Barca remain up top every year because of him. Because Barca have this way of easily creating internal debates, it seems they like it. But Messi is so good, so good that he holds up what is around him."
Unfortunately for Luis and Atletico, Messi and Barca have been firing on all cylinders again this season.
Ernesto Valverde's side have won nine successive games in all competitions, with their Argentine superstar netting 14 times in 11 appearances.