World Cup
Hirving Lozano transfer: The clubs who could sign PSV's €40 million-rated Mexico star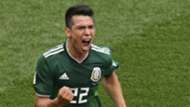 It was only a yer ago that Hirving Lozano made the jump across the Atlantic Ocean. The smiling winger from Pachuca moved to PSV. Perhaps it's no surprise that the player who scored in his Pachuca debut when he was just 19 (and later in his Eredivisie debut and in his World Cup debut against Germany) had a brilliant season in the Netherlands.
Lozano fought to be the league's top scorer, and while he ultimately fell short in that quest was able to help PSV win the title with several weeks to spare.
His World Cup goal against Germany and assist against Korea have done little to dampen the enthusiasm surrounding the player. Lozano enjoyed his first season abroad, but his stock has never been higher. It may be the time to make a move.
"I think right now the most important thing is to think about the matches happening right now, those that are coming up and take them on step by step like you always have to do," he said when asked about his future during the World Cup.
Yet an agent change to bring on Mino Raiola this year certainly hints at the idea that Lozano may be on the move this summer. So too do comments by Lozano's father that there has been contact with big teams. And why not? Lozano looks to be the most talented player to come out of Mexico, and could soon be flying the flag at one of the world's biggest clubs.
---
Hirving Lozano transfer value & contract
---
Lozano is under contract with PSV until the summer of 2023, and reports that emerged in the fall indicated he has a release clause set at £30 million ($40m).
While PSV would love to have Lozano back, a sale is a possibility with the club transitioning to a new era. Phillip Cocu has left to manage in Turkey with Mark van Bommel taking over. The former PSV midfielder should continue to play the attacking style that highlights Lozano's skills, but PSV ultimately has to be a selling club in the modern era.
PSV hasn't set a price on Lozano with everyone waiting to see what more "Chucky" can do at the World Cup, but there are reports that the Dutch club isn't interested in fielding offers below €40 million (£35m/$47m) - a price that would make him the most expensive Mexican player ever and also would more than recoup the money PSV shelled out when it brought Lozano to Eindhoven, which was somewhere between €15m and €20m.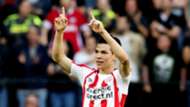 ---
The clubs who want Hirving Lozano
---
Several of the world's biggest clubs are reportedly interested in signing Lozano, and his excellent World Cup so far has only increased the number of suitors.
Lozano once said his dream would be to play with Barcelona, and the dream may be drawing closer with his father implying that there had been contact with the Spanish side - though the only thing he actually said was that there had been contact with big teams.
Juventus is another club that has popped up time and time again, with the Old Lady set to have an active summer and already looking to bring in one Spanish speaker from PSV with Santiago Arias nearing a move to Turin.
The highest number of suitors appear to be in England where Arsenal and Everton have been closely linked to the winger, with Liverpool also popping up on the radar and many noting how well Lozano would fit into Jurgen Klopp's system.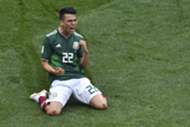 ---
Which club is best for Hirving Lozano?
---
While you can't always get what you want, Lozano's desire to play for Barcelona seems like the best fit for him if he could break into the starting XI and get regular playing time.
That's hardly a guarantee with the Blaugrana, and he'll be wary of being the latest Mexican to move to a giant club and sit on the bench when he could've gone to a big club and played week-in, week-out. He can speak with El Tri teammates Javier "Chicharito" Hernandez, Raul Jimenez or Hector Moreno about seeking too much too quickly.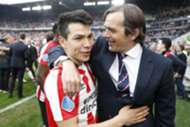 Even if that may make Barcelona a bad fit, his playing style would be excellent in Spain and Italy. The Premier League would test "Chucky". While he was the victim of the most fouls in Liga MX in almost every season in which he played, Lozano still can have trouble coping with opponents who use physicality to body him out of games. That would be more common in England than it would be in Spain or Italy. At times, his frustration with that kind of play has boiled over, and Lozano hs earned a number of red cards after losing his cool. It's an aspect Mexico manager Juan Carlos Osorio has asked him to work on.
Still, his speed and technical ability on the wing give plenty of indication that he might be a success in England, should one of the Liverpool clubs or Arsenal make a move.
Lozano is a family man, marrying young and already having two children at the age of 22. Finding somewhere he and his family can settle down and feel at home for years to come undoubtedly will be a big priority. He'll be eager to sign on the dotted line with the club that makes him feel most at home.