Ander Herrera
Herrera 'cannot sleep' over Manchester United place despite silencing Hazard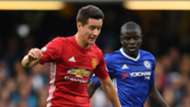 Manchester United midfielder Ander Herrera says he "cannot sleep" and that he's constantly battling to be picked ahead of his top-quality team-mates.
Redknapp returns to management
Herrera was heavily praised in the wake of his side's 2-0 win over Premier League leaders Chelsea on Sunday after playing a leading role in an excellent team performance.
The Spanish midfielder conceded, however, that he still worries about his place in the side, despite his recent string of good performances, due to United's ability to spend big in the transfer market.
"We have great players and Manchester United has the capacity to sign big players, so I cannot sleep," Herrera told Manchester United's official website.
"I have to keep working, performing and giving what the manager wants me to give.
"I am a team player, I want to give everything for the manager and I don't look back. I just look forward."
The 27-year old has registered more starts this season than in his previous two campaigns at Old Trafford, earning a number of plaudits along the way.
Alexis & Ozil too good for Arsenal to lose
Herrera, however, gives the credit to his manager Mourinho, who has identified the former Athletic Bilbao man as a key member of the side.
"I am very thankful to him," Herrera added.
"This season has been the most regular for me and that is with Mourinho on the bench. I am very happy.
"He gave me, from the first day, a lot of confidence and he told me that I was going to be an important player for him."