Goal United
Heroes on and off the pitch: Northern Ireland show how to party
at the Stade des Lumieres, Lyon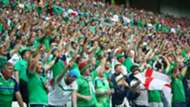 ---

COMMENT
---
Euro 2016 has hit the headlines for a plethora of reasons over the past few days. The return of hooliganism and public transport chaos have overshadowed the tournament so far, but under the radar Northern Ireland's supporters have more than justified UEFA's decision to expand the tournament to 24 teams.
Michael O'Neill's side fought their way to France after winning qualifying Group F where they faced the likes of Romania, Hungary and Euro 2004 winners Greece. They exceeded all expectations before the tournament and have once again surprised the masses with a victory of epic proportions against Ukraine thanks to Gareth McAuley and Niall McGinn's goals.
To compare and contrast, the Ukrainians boast a side which includes Europa League winner Yehven Konoplyanka, while Northern Ireland started with Conor Washington – a former non-league player and part-time postman – in attack.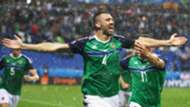 Some established teams at Euro 2016 haven't conducted themselves in impressive fashion on or off the pitch so far. The trouble in Marseille, Lille and Lens looks set to spread across France as the tournament goes on.
While 'ultras' may be instigators of the horrific violence we've seen over the past week, there is no doubt that the problem has spread much further than that. 90,000 police officers, plus private security, have struggled to contain the despicable scenes which have left two England fans fighting for their lives.
In stark contrast to the troubles elsewhere, Ukraine's supporters showed their class in the 24th minute when they joined in applause for Darren Rodgers, the Northern Ireland who died earlier this week in Nice after having fallen over a seaside promenade barrier on Sunday. Those Northern Ireland players put in a performance every fan past and present would have been proud of and the travelling Green Army continued to sing for 20 minutes after the final whistle went.
Travelling to Lyon for the game on Thursday was made even better after being accompanied by the Northern Ireland supporters.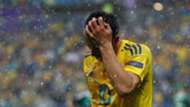 When talking to one fan in particular, I asked what his contingent thought of the hooliganism that has been so prevalent in recent days. "We love our country and we love people. We don't want to fight and we haven't come here to fight," he replied. Those small but significant words have an underlying meaning that can be seen across the board at Euro 2016, as we saw with Iceland's 1-1 draw against Portugal in Saint-Etienne.
The sides considered 'underdogs' and here 'just to take part' have shown the same spirit as Leicester City from last season. If you have the belief and team spirit then there is no reason why you can't progress in the competition.
The Northern Ireland supporters are a credit to their team and proved that it doesn't matter how big you are as long as you work hard enough and have the belief to outwit your opponent.
Ukraine have a population of 45.5million compared to Northern Ireland's 1.8m – but on Thursday night in Lyon you wouldn't have been able to guess it.
Goal journalists are powered by the Samsung Galaxy S7 and Gear 360