NPFL
Henry Abiodun unsure of Sunshine Stars readiness for NPFL restart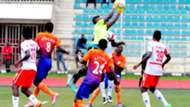 Sunshine Stars coach, Henry Abiodun has admitted that they are in a race against time to be ready for their league fixture with Abia Warriors fixed for July 18 in Umuahia.
The Owena Whales who are 18th in the league log with 28 points from 24 games only resumed from the World Cup break three days ago due to a pay dispute with the players and technical crew officials.
Abiodun in a no-holds-barred interview noted that it would take more than a miracle to keep his players fit and be poised for action when they face the Umuahia side who have stayed at least three weeks in camp earlier.
He lamented the financial challenge of the club which meant that they started the build-up to the league restart behind schedule and has also affected the choice of their friendly encounter ahead of Wednesday tie with Abia Warriors.
"I must state that it will take more than a miracle for us to put a team in place for our game with Abia Warriors but we will try our best to ensure that Sunshine Stars players are able to compete," Abiodun told Goal.
"It was beyond us because the financial situation of the club meant that we have to do things according to it. We had wanted to play about two to three high profile friendly matches to keep the players in shape and ready for Abia Warriors.
"Unfortunately because of lack of money, we are unable to get quality friendly matches because most of them have had prior arrangements with other teams before we resume after the World Cup break. This has really affected our preparations because the other option would be to go and meet them but we are unable to take that because of obvious reasons.
"I will say most of my players are getting set for the continuation of the league while some believed that the one month break was for them to rest and they did little working on their fitness level. We are having different sessions for those ones. We are doing everything possible to raise a formidable team."
The United States trained coach noted that their objective is to ensure that they guide Sunshine Stars towards another season in the top flight and he calls on the Ondo State Government to come to the rescue of the team so that lack of funds won't hinder their effort.
"We want to make the players believe that we can regain our premier league status and they have shown us they are convinced that Sunshine Stars are not a candidate for the relegation zone," Abiodun continued.
"We beckon on the state government to come to our aid and support our resolve to ensure that Sunshine Stars does not suffer the shame of relegation. We have the players and the technical crew to do the job but we must be supported with the necessary funds to make everyone happy."