South Africa
Helman Mkhalele: Bafana Bafana responded well against Burkina Faso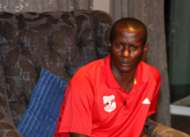 Legendary Bafana Bafana  midfielder Helman Mkhalele was pleased with the national team's performance against Burkina Faso on Saturday where they secured a convincing 3-1 victory at the FNB Stadium.
"It was a good performance that puts them back into contention for qualification of the World Cup. I'm happy with the response after the back-to-back losses to Cape Verde Islands and getting docked points from last year's game with Senegal," Mkhalele told Goal .
As much as the win puts them back into contention, Bafana still have their work cut out because they now have to beat Senegal twice to be sure of going to their first World Cup since hosting the 2010 edition.
They will be without two key figures in Bongani Zungu and Andile Jali through suspension, but Mkhalelele believes there's enough quality players to replace the two central midfielders. 
"I think we have a number of players available to take their spots, but it will depend on who the coach decides to bring in that fit his philosophy and game-plan on the day," Mkhalele said.
Mkhalele didn't want to be drawn into naming possible replacements for Zungu and Jali, but he warned that whomever Baxter selects should be ready to fight for the national team.  
"As long as he brings in players that display the very same attitude that the players showed on Saturday with a good workmanship," Mkhalele concluded.