Heineken set to surprise fans in celebration of Champions League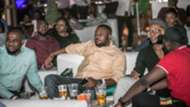 When Heineken and Uefa went into partnership in 1994 for the Uefa Champions League, there was hardly any doubt about the excitement and fantastic moments that relationship would bring.
25 years down the line, the relationship has not only blossomed and surpassed expectations; it has given birth to lots of fun, drama, breathtaking and unmissable moments not only for the two partners but more importantly for the fans.
"I was told that in Nigeria football is passion, but it is a lie because it is more than that. In Nigeria I was told that football is love, but it is a lie it is more than that. In Nigeria, I was told that football is a religion, but it is a lie. It is more than that. In Nigeria, football is life," that was  former Uefa General Secretary,  Gianni Infantino, when he came to Nigeria last year.
Nigeria is no doubt an important country for Football and Uefa. One only needs to visit the Heineken experience centres across the country to see the passion of the fans when there is a Uefa Champions League game going on. This year will be no different with Heineken set to launch several surprises for fans across the nation.
International premium beer brand, Heineken, has over the years, been giving loyal consumers and fans of football, across Nigeria, premium viewing experiences of the Uefa Champions League games.
In 2014, Heineken's long standing relationship with Uefa led to the brand bringing the coveted Uefa Champions League Trophy down to the country which was accompanied by the great; Ruud Gullit. In 2018, former A.C Milan marksman, Hernan Crespo visited Lagos during the finals of the Uefa Champions League to experience first-hand the fans passion.
Its 2019, and yes, Heineken has bigger plans, one just needs to keep fingers crossed to see what the brand has in store in the next couple of weeks. What we can tell you though is to prepare for a lot of Unmissable Moments.

"Heineken has been an integral partner of the Uefa Champions League for 25 years. As a consumer focused brand, we will continue to enrich the fans' experience of football by creating unmissable experiences of the Uefa Champions League thereby enabling thousands of fans to witness them firsthand," said Senior Brand Manager, Heineken, Mfon Bassey.
"We can't wait to share our big plans for the Uefa Champions League as we urge all consumers and football fans to watch out for our big announcements."
The core focus for Heineken is to bring unique experiences to fans of Uefa Champions League in Nigeria. As the most prestigious club platform for international football stars, this premier-sporting event has become global and fits perfectly with the Heineken brand.