Real Madrid
Guinness Choose Your Side: Barcelona v Real Madrid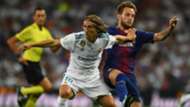 Why Barcelona will win by Dennis Mabuka
Real Madrid are struggling this season in La Liga while The Catalan giants have already clinched a domestic double, winning La Liga, and the Copa del Rey titles. Notably, the last time these two sides met in La Liga, Barcelona destroyed Real Madrid 3-0 at the Santiago Bernabeu. Madrid are not strong enough and have lost at home to teams like Real Betis and Villarreal, and on their travels, to Espanyol and Girona. They were also knocked out of the Copa del Rey by a low-ranked Leganes side in the quarter-finals. With Madrid's eyes on the Champions League, Zinedine Zidane could rest some of his top players and this could give Barcelona the opportunity to bag maximum points.
Barcelona's match winner
When it comes to Clasico success, Leo Messi has been on the winning side more often than Cristiano Ronaldo, winning 17 matches against Real Madrid in all competitions. The Argentine has played against Barcelona's bitter rivals 37 times in his career across a number of competitions. For those 37 matches, Messi has tasted defeat 12 times and drawn on eight occasions. La Liga is Messi's happiest hunting ground for Clasico success, with 13 of the 17 victories coming in that competition. Expect Messi to shine again on Sunday.
My score prediction: Barcelona 3-0 Real Madrid
Barcelona wrapped up the title with a 4-2 win over Deportivo, with Lionel Messi scoring his 46th career hat-trick, and can now become the first team in La Liga history to go unbeaten throughout the entire season. The last team to beat Barcelona in La Liga was Malaga in La Rosaleda on April 8, 2017, while the last time Real Madrid beat them was over 12 months previous on April 2, 2016. Real Madrid are struggling in La Liga and are also fatigued after their Uefa Champions League success against Bayern Munich. The combination of Messi and Luis Suarez is going to be the key and Real Madrid will have no chance in this one!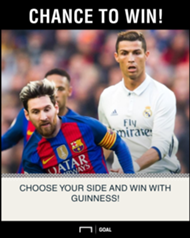 Goal fans "CHOOSE YOUR SIDE" with Guinness and you could walk away with Kshs. 2 million
Why Real Madrid can beat Barcelona by Ignat Manjoo
As Dennis has already expressed, all the odds are against Real Madrid for this showdown. The greatest advantage is that the match will be at the Camp Nou. However you should never write off Real Madrid. Zidane's team has received much criticism for their indifferent form in La Liga and Europe. However they've gone on to beat the league leaders from France, Italy and Germany in recent months. These include victories away from home in the lion's den, so why can't they also beat the champions of Spain? One can argue that Zidane will rest players but the Champions League final is still two weeks away. The second leg of the semi-final against Bayern Munich was on Tuesday, so that gives his forces enough time to recharge their batteries for Sunday. Just like Manchester United who came from behind for a shock upset against City in the Premier League at the Etihad, Real Madrid can cause an upset too. They have the extra incentive of spoiling Barcelona's undefeated record while there's already a bitter taste over the crowning of the title in La Liga.
Real Madrid's match winner
Of course Cristiano Ronaldo has been in hot form this year, but I believe Gareth Bale could be the match winner for this Clasico. The reason is that he only came on as a subsitute against Bayern. Zidane should start the fresher Bale, and he will be looking to make a statement on the big stage. Bale will want to convince Zidane that he should start in the Champions League final, and there's no better opportunity to underline his worth than against their archrivals.
My score prediction: Barcelona 2-2 Real Madrid
So, I did say that Real Madrid has the potential to upset Barcelona (and why) but I didn't say that I believe that they will win. Balancing out all the possibilities, I think Real Madrid will give Barcelona a big scare but at the Camp Nou the home team will have enough quality to draw level and keep their undefeated run intact. This should be an exciting encounter with goals because the league is already won, there's nothing to lose and both sides will be free to attack, to attempt to hurt their rivals and perform with pride.