Manchester United
Going nowhere fast - Why Shaw and Martial remain part of Man Utd's plans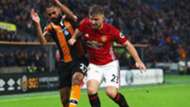 ---
COMMENT
---
Manchester United might have a comfortable two-goal lead before they even kick-off against Hull City in their EFL Cup semi-final second leg in East Yorkshire, but there are plenty of reasons for a host of their players to strain every sinew at the KCOM Stadium on Thursday.
Coutinho pens new Liverpool contract
Chief among those with a point to prove are left-sided duo Anthony Martial and Luke Shaw, both of whom have met with a number of roadblocks on their route to regular first-team football at Old Trafford under Jose Mourinho. And, if given the opportunity to shine against Marco Silva's Tigers, the pair really need to show signs that they are ready to win over their manager.
Shaw's situation is well known. Having arrived at the Theatre of Dreams as a £30 million 18-year-old in the summer of 2014, the former Southampton starlet had his first season dogged by injuries and claims by then-manager Louis van Gaal that he was carrying extra weight, while season number two was ended in September by a sickening leg-break.
Having returned to the first-team picture at the start of 2016-17, he is back on the outside looking in, with another season having been blighted by concerns over fitness and his status in the mind of the manager. When last he played in Hull in the Premier League in August, the echoes of rave reviews at his excellent return to form were still ringing in his ears. Yet after six games in six weeks, his performances began to dip and the boss was quick to notice the difference.
Mourinho took him to task after the shock 3-1 defeat at Watford in September: "Today for the second goal, Nordin Amrabat on the right side, our left back is 25 metres distance from him, instead of five metres. But even at 25 metres, then you have to jump and go press. But no, we wait."
Shaw missed the next five games with a groin injury sustained before that incident, but having won back his place he was in the doghouse again before long. "Shaw told me this morning that he was not able to play," Mourinho claimed ahead of the 3-1 win over Swansea City. "For the team, you have to do anything."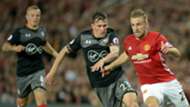 Since that game in south Wales, Shaw has started two cup games and not featured at all since November 30, leading many to wonder whether Mourinho is ready to give up on the 21-year-old. But the man who was considered 'England's left-back for the next decade' when first heading through the door at Carrington will not be given up on so easily.
Neither will Martial, whose agent attracted attention at the beginning of the January transfer window with what amounted to a veiled threat for Mourinho when asked about interest from Sevilla in the Frenchman. "We are indeed studying this possibility, we are talking about a large club," Philippe Lamboley told Le10sport. "Sevilla has a good position in La Liga and has a great coach. But for now, I can not say more."
20 football giants you probably forgot were in China
A potential exit was raised as a possibility in light of Martial's struggles so far in his second season at Old Trafford, 12 months on from a successful debut campaign which saw him finish as United's top scorer with 17 goals. The Frenchman has hit the headlines with a messy split in his personal life, while his inclusion in Didier Deschamps' Euro 2016 squad resulted in him coming back to England late from the kind of summer he had never experienced before.
Add in the need to find a new way to play under Mourinho, and Martial has hardly found things straight-forward. While in theory his role has not changed much since the Portuguese took over from Van Gaal, having spent most of 2015-16 in the left-wing slot he currently occupies, his new boss has admitted that the 21-year-old might not be quite as naturally suited to his style as he was to the Dutchman's.
"First of all the teams are very different," said Mourinho in November. "The way the team played last season was probably more adaptive to Anthony. He was probably more comfortable playing that way, at that intensity, at that rate of ball possession and ball circulation."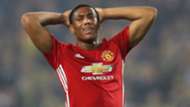 But the manager has already made it clear that he will not entertain the thought of Martial moving on in January: "Anthony needs to listen to me and not listen to his agent. He has to listen to me in training every day. Every feedback I give to players, I give to improve them as player.
"Every day I read the newspaper 'Martial goes to Sevilla, Martial goes on loan, he's not happy.' Martial needs to listen to me. He's a player with amazing conditions to be a top player."
Martial's latest setback came in his exclusion from the 18-man squad to face Stoke City on Saturday, but just as Henrikh Mkhitaryan has worked hard to win over Mourinho there is a similar route back to the first team open to Martial if only he can take his chance.
And the same goes for Shaw. The two of them are players whom United retain a lot of faith in. Two 21-year-olds finding it difficult to live up to enormous expectations having attracted huge fees as teenage starlets. But there will be no giving up on them just yet.
United have learned from the Paul Pogba episode. The midfielder left for nothing in 2012 and it cost them £89.5m to buy him back from Juventus four years later, and they realise that to throw Shaw or Martial on the scrapheap too soon might be to enter into a similarly costly situation.
Belief in them remains high despite their struggles. United now accept that Shaw may need longer to return to peak fitness than they initially suspected, while Martial's best form might take a little while to reappear after a testing time in what remains a foreign land for a now estranged young man.
Their United careers might be at a low ebb right now, but they are still seen as having vital roles to play in the club's future. Now it is up to the players to seize their chances when they get them.