Africa Cup of Nations
Goalkeeper Brimah slams Ghanaians after criticising his performance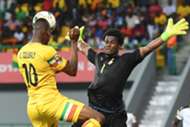 Ghana goalkeeper Razak Brimah has hit back following criticisms of his performance at the ongoing Africa Cup of Nations, insisting that people are too quick to want to attack him without critically analysing his overall performance.
The Black Stars qualified to the semi-finals of the competition on Sunday after defeating DR Congo 2-1 but many Ghanaian supporters claimed Paul-Jose M'Poku's equaliser after Jordan Ayew's opener could've been saved had Brimah was well positioned.
"Thanks to those positive people and to those with negative comments should go to fu*king hell. I'm fu*king annoyed but those guys that support us, my fans over there [in Ghana] thanks to you and may God bless you all," Brimah said in a video live chat on Facebook on Monday.
"And let me remind you those fu*king negative people, fu*k you and your family because we also have families and any words that you say against us also affect them. If you don't understand football, just shut up and sit over there to watch the game.
"I am not harsh but people talk too much. This is my fourth year with the national team and this is only my fourth time of losing a game. I hardly lose competitive games and I'm tired of this people. Instead of supporting me, push the team and pray for the team, they just sit out there and talk sh*t about me."
He added: "I am done [with them] but it's annoying and I'm fed up. Normally, I don't care about them or watch anything from such people but it's over me now. Since when did a Ghanaian goalkeeper conceded only three goals in nine games, what do they want again? They don't appreciate my efforts."
Ghana will face Cameroon in the semis on Thursday in Franceville as they seek to end a 35-year run without a major trophy.
Goal's sources have revealed that Brimah is likely to be benched by coach Avram Grant following his outburst and Fatau Dauda will be handed his first game in post in the tournament.