Super League
Goal 2017 MSL Team Preview: PKNS look to overtake 'big brothers' Selangor as #1 team in the state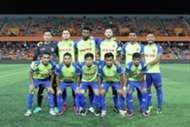 ---
BY        ZULHILMI ZAINAL       Follow on Twitter
---
Much of promoted side PKNS FC's pre-season matters have been intertwined with that of Selangor's. This is nothing new, considering that they were a club side under the affiliation of the Selangor FA (FAS), which runs the Red Giants team.
But the FAS pre-season internal dispute has inadvertently pulled the Red Ants as well, due to FAS' decision to suddenly block PKNS' participation in the M-League, as a sort of revenge for FAS president and Selangor state Menteri Besar Azmin Ali's refusal to continue funding Selangor.
This is because PKNS are owned by the Selangor State Development Corporation, a corporate arm of the Selangor state government, which Azmin as the state Menteri Besar has some amount of control over.
Fortunately, the PKNS board had the presence of mind to initiate a move of affiliations so that the club are now under the Selangor Malays FA, and their participation in the Super League was accepted without any further ado.
To their credit, the Red Ants have maintained a diplomatic outlook and responses to FAS' spiteful attempt even after moving affiliations, and have expressed the intention of continuing their cooperation with FAS in the future.
And Azmin's resignation from FAS and the withdrawal of state funds from the association now means that he can focus the resources on just one team; the Red Ants, even if it is just to show FAS how he can do it better.
Minor steps have also been taken that show the clubs' intention of usurping their 'big brothers'' place as the number one team in the state of Selangor.
For one, Selangor fans who have been losing patience with the FAS board's perceived ineptitude are perhaps now ripe for enticing.
Next, the Shah Alam Stadium, which has long been shared by the two clubs, has 'evicted' the Red Giants for the 2017 season, which means the Red Ants have exclusive pick of the nearby Shah Alam and Klang crowd.
During the 2017 team and kit launch, the club revealed a red-and-yellow away kit, the colours of the Selangor state flag, perhaps a hint to Selangor residents as to what the club are representing now.
Whether this new direction was decided by the club board itself or 'decided' for them by the state government, it is definitely a nice change for a side that have always been rather indifferent to fans' turnout, as most of their funding has always been granted by the parent corporation and not by the fans' support. 
And those are just the behind-the-scene matters.
Head coach Elavarasan Elangowan, who took them to the second place in the 2016 Premier League and promotion, and the 2016 FA Cup final, was entrusted to helm the team for a second season, and that should bode well for continuity and cohesiveness. He has been given the objective of finishing in the top five position in the league, as well as capturing one silverware this season.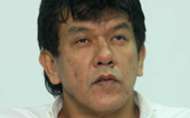 Elavarasan Elangowan
Budget wise, the PKNS setup, including their youth teams has been allocated RM18 million for the 2017 season according to club president Siti Zubaidah Abdul Jabar. 
But there is one small hiccup in PKNS' plan for this season. Just a week before the season was scheduled to kick off, league organisers FMLLP discovered that the Shah Alam Stadium's floodlights did not reach the required luminosity level, thus forcing PKNS to have late afternoon kickoffs, at least in the first two months of the season. This will definitely hamper their push to draw the local fans, as most workers in the Klang Valley area only end their working hours after the 4.45pm kickoff time.
In the meantime, Selangor, which have since made the Selayang Municipal Stadium their home ground, can hold evening kickoffs as usual.
NOTABLE TRANSFERS (as at 19/1/2017)
The Red Ants managed to retain the services of two foreign players; Gonzalo Soto and Matías Jadue, while Patrick 'Ronaldinho' Wleh returned from his season-long loan spell at Selangor. Gabriel Guerra moved to JDT II, and was replaced with 22-year old Argentinian striker Lucas Espíndola. Juan Manuel Cobelli meanwhile was released.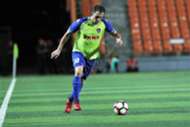 Matias Jadue. Photo credit: DSR Media/PKNS FC
Meanwhile they signed numerous local players. They signed former Malaysia internationals Khyril Muhymeen Zambri, Zamir Selamat, Azmi Muslim, Sabre Abu, Amirizdwan Taj, as well as Malaysia striker Safee Sali, Harimau Muda graduate Gurusamy Kandasamy and Bobby Gonzales.
Among players retained from their successful 2016 season are goalkeepers Jeevananthan Gunasekaran and Nor Haziq Aris, defender P. Gunalan, and midfielder Shahrul Azhar Ture.
Remezey Che Ros, Zaiza Zainal Abidin were released, while Shakir Ali, Shahurain Abu Samah and Farderin Kadir were loaned out.
In: Zamir Selamat (Perak), Azmi Muslim (Selangor), Patrick Wleh (loan return from Selangor), Khyril Muhymeen Zambri (AirAsia Allstar), Bobby Gonzales (Felda), Lucas Espíndola (All Boys), Khairul Ramadhan Zauwawi (Terengganu), Sabre Abu (Kedah), Gurusamy Kandasamy (Sarawak), Amirizdwan Taj (free agent).
Out: Khairu Azrin Khazali (Melaka), Juan Manuel Cobelli (released), Remezey Che Ros (Kuala Lumpur), Gabriel Miguel Guerra (JDT II), Zaiza Zainal Abidin (released), Farderin Kadir (loan to Negeri Sembilan), Shakir Mohd Ali (loan to PDRM), Shahurain Abu Samah (loan to PDRM).
PRE-SEASON ACTION
PKNS were probably the Super League side which have played the most pre-season friendlies. Among the matches they were played were against Kuantan (0-0), PKNP FC (4-1 defeat), Negeri Sembilan (1-1), Kuala Lumpur (1-0 win), Kedah (0-0), Sabah (2-2).
GOAL'S PREDICTION
Despite all the pre-season signings and what they have achieved in 2016, PKNS do have a reputation as somewhat of a yo-yo team in the top tier, and it is this reputation that has made it hard for the Red Ants to be rated highly. For example, in their first MSL match last weekend, Elavarasan's men still managed to fall to a 1-0 defeat to an unsettled Felda United.
Furthermore, the political interference of Azmin could spell trouble for a relatively well-oiled machine such as PKNS, despite the bigger state resources that are now expected to be made available to them. After all, the blame with Selangor's upheaval in the past years is not the FAS board's alone to bear.
PKNS are expected to be one of the relegation battlers this season, but as long as the PKNS board is allowed to continue making the major decisions on their own without the meddling of outsiders, the Red Ants should be able to avoid relegation after all 22 of their league matches have been played.
We've published the previews for five other 2017 MSL teams! Read them here: JDT, Kedah, Selangor, Melaka United, Pulau Pinang. More will be published this week!