Serie A
Ghanaian Cofie announces Genoa departure amid interest from Premier League sides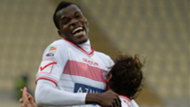 Ghanaian midfielder Isaac Cofie has announced his departure from Serie A side Genoa after almost ten years at the club.
The 27-year-old, who made his Serie A debut for Genoa in 2010, rejected a contract extension at the end of the season.
According to reports, Premier League sides Southampton and Crystal Palace have shown interest in the player while Serie A returnees Empoli and Parma are keeping a close eye on him.
"Dear beloved fans, it's with the heart in hand that I write you after my last match with our beloved team. The time has come for the greetings, I think back to the ten years spent together despite some loans to other teams," Cofie wrote on his Instagram page.
"I remember the separation from my land and the hope of a better future: a dream that it was soon be realized. I was welcomed by your beloved city, by its people, by its desire to feel Genoa football as a bulwark of this wonderful land. 
"The colors Red and Blue, the only colors that represent for me Genoa, red like the heart and blue like the sky, I have soon impressed in the skin and the heart and this means that together we shared the joys and sorrows of our team.
"I embrace all with infinite affection, all those who have always supported me because they supported me throughout the group. For me, Genoa is the only team in Genoa. Thanks to the company, all coaches and companions for all these years. I will follow you and I will always carry you inside my heart, you are unique."
Cofie had loan stints at Sassuolo and Chievo Verona.