Premier League
Ghanaian clubs' union holds first meeting with Fifa liaison team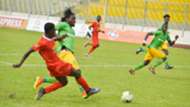 Ghana League Clubs' Association member Oduro Nyarko believes they are on course to restore normalcy to Ghana football following Monday's meeting with an interim liaison team set up by Fifa and Caf.
The two parties met to discuss issues surrounding the current impasse of the sport in the country after an investigative documentary exposed corrupt and match-fixing activities of top officials and referees of the Ghana Football Association. 
Ghalca had earlier threatened to petition Fifa to restore order after the Ghanaian government turned down its plea to take over administration of football in the country while new leaders are elected for the FA. Government insisted on going ahead with plans to dissolve the GFA for a new body, effectively pulling the plug on all football competitions.
"Most of the clubs were present in our meeting with the two-man liaison team," Wa All Stars chief executive officer Nyarko told Happy FM.
"We won't petition Fifa again because we had a successful meeting with the team. We will write our worries to them for them to forward it to the government to soften its stand.
"We looked at our options and concluded that dealing with the liaison team is shorter and the right way to go.
"Those whose players play for the various national teams have been given letters to release their players. The team pleaded with clubs to release them."
Kofi Amoah, Local Organization Committee Chairman for Ghana's hosting of the 2008 Africa Cup of Nations, and Caf cum GFA official Francis Oti Akenteng make up the two-man liaison team. 
As things stand, the GFA premises remains under lock after it was labeled a crime scene by local police following the screening of the documentary. 
"We didn't talk much about the GFA staff and their [possibly] resuming of work. Dr. Kofi Amoah made it clear that we weren't there for that issue," Nyarko said. 
"The team directed us to write our problems and send it to them. We couldn't talk about the league because there was no GFA or attorney general."