WC Qualification Africa
Ghana to use Egypt improve Fifa ranking, says Saanie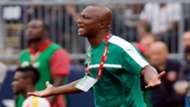 Ghana Football Association media officer Ibrahim Saanie Daara believes the Black Stars can improve their standings on Fifa ranking with a victory over Egypt in the final game of the 2018 World Cup qualifying.
The four-time African champions, who are currently 52nd in the October ranking, failed to make it to the tournament which will be hosted by Russia after Egypt claimed the sole ticket of the group.
The Ghana versus Egypt match is scheduled for November 12 at the Cape Coast Sports Stadium.
"We have so many things we can do. We beat Saudi Arabia, a World Cup team 3-0, so if we beat Egypt it will tell people that we deserved to play at the World Cup though it did not happen," Sannie said.
"It will also lift us on the Fifa ranking and give the technical team the chance to assess the new players. Already, the interest is very high. We are expecting the same thing the people in Cape Coast did during the Wafu tournament. They should come and cheer the team to victory although we could not qualify to the World Cup.
He added: "We have to thank the people of Cape Coast for what we saw during Wafu. We were very appreciative so when our bosses suggested that the game should be moved here, no one declined."
The Black Stars arrived in Cape Coast on Tuesday to open their training camp with 21 players and Goal understands that Harrison Afful joined his teammates on Wednesday.