UEFA Champions League
Ghana international Michael Essien 'takes a lot of pride' in Mohamed Salah's exploits in Premier League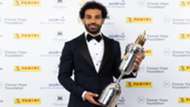 Former Chelsea midfielder Michael Essien has lauded the performance of Liverpool ace Mohamed Salah in the English Premier League. 
The Egyptian, who had a brief spell with The Blues, has emerged as the star of the season, having netted 31 times to equal the topflight's record of the most goals in a 38-game campaign. 
On Sunday, the reigning African Player of the Year added to his bag of awards after being name the PFA Players' Player of the Year.
"He [Salah] is a fantastic player," Essien told KweseESPN. 
"It didn't work out at Chelsea at a young age, but what he has done at Liverpool is amazing.
"Being an African, I take a lot of pride in the fact that another African has emerged as such a big star in the [Premier League]."
But Salah, 25, is not the first African to hog the headlines in recent times.
Algeria's Riyad Mahrez won the PFA honour in 2015-16, while the likes of Senegal striker Sadio Mane and Yaya Toure of Cote d'Ivoire continue to fly the continent's flag. 
"Mahrez did it too, but it's not just those two," said, Essien. 
"Sadio Mane has done fantastically too in helping to project the reputation of African players strongly by the way they've played."
Essien played for Chelsea between 2005 and 2014.
During that period, the 35-year-old won the English Premier League on two occasions (2005-2006 and 2009-10), his trophy haul also including four FA Cup titles, one League Cup, two Community Shields and the prestigious Uefa Champions League (2012).