Premier League
Ghana gets Fifa World Cup exemption for domestic league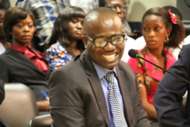 The Ghana Football Association has been granted permission by Fifa to run the domestic league during the time of the summer World Cup in Russia, the local football governing body has announced.
The news comes a month after GFA president Kwesi Nyantakyi disclosed ongoing talks with Fifa for the special dispensation, owing to the rather late start of the Ghana Premier League.
"Fifa has no issue with the Ghanaian leagues continuing to play as long as players selected on the release lists of Participating Member Associations taking part in the 2018 FIFA World Cup are released to their federations as of 21 May 2018", an excerpt of Fifa's letter signed by deputy secretary general, Zvonimir Boban stated in Monday's announcement via the GFA's official website.
The development means that the league, which commenced in March, will run in June and July as the World Cup goes on.
By Fifa's rules, all leagues must conclude before the World Cup commences on June 14 and ends on July 15, or halt during the period.
However, the GFA fears pulling the plug halfway will have more adverse effect on the already late topflight and distorted football calendar.
Against the expected 2017 kick-off date of the 2017-18 campaign, the league was scheduled to start in February this year due to the late conclusion of last season's championship.
A court order, however, further pushed the commencement from February to March.