U17 World Cup
Ghana defeat a harsh end to India's historic U17 World Cup campaign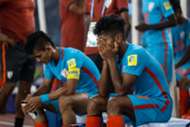 When the schedule for the FIFA U17 World Cup was listed out, India's final group stage match against Ghana was expected to be the toughest game of the lot. On Wednesday, so it proved as Samuel Febin and his charges orchestrated a 4-0 hammering on India as the hosts crashed out of the tournament without a point to their name. 
But one must look at this result with some perspective. Ghana are a seasoned footballing nation and this team consists of some really top talents. To pick one out - captain Eric Aiyah, who has been on the radar of clubs like Manchester City and FC Porto. Incidentally, he would score the two goals that would seal the result on the night against India before his teammates helped themselves to two more late on. 
This is the level of players against which India competed in this tournament and to have come out with their heads held high is an achievement in itself. We are not even going to mention the fact that the India U17 players do not have competitive game experience while the Americans, Ghanaians and the Colombians play age-group tournaments week in week out. 
Moreover, India are playing their first ever World Cup across all age groups while their group opponents play the senior World Cup regularly. We only have to cycle back in history to see how India's opponents fared in their first ever U17 World Cup bow. Ghana finished third in their group (behind Scotland and England) in 1989 while USA also crashed out in the group stages in 1985. Colombia also suffered the same fate in 1989, albeit after managing to notch a point. 
The difference in quality between India and these teams was apparent and it was absolutely no surprise at all. Still, it is a credit to coach Luis Norton de Matos and the players to have put up spunky performances in all the three games. Yes, India shipped nine goals in three games but the defensive organisation India showed for most parts of those games was just admirable, considering the odds they were up against.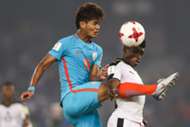 While India were defensively well organised in all the three games, we got to see improvement in midfield and attack in the latter games. Our attacking forays looked better and possession also saw a gradual upward climb in the second and third games but ultimately the quality was just not there. But, then again, footballing revolutions do not take place overnight. 
On Wednesday, the game started at a frenetic pace with both teams involved in end-to-end moves in the initial ten minutes or so. What was eye-pleasing was the way Indians were bombing up and down, with pace, though Ghana had the better chances. There was a concerted effort from the team to hold on to the ball and attack more but Ghana, a team with physically superior players who have pace to burn, would take control of the game soon enough. 
However, in what is a minor victory for the Indians, Samuel Febin's boys had to rely on the widemen to give the forwards service, given the exceptional organisation of India's central defence and central midfield. But the battle on the flanks is often won with pace and that is something Ghana had in abundance. Both Aiyah's goals came from the flanks while India were visibly tired towards the end, helping Ghana net two more after sloppy play from the home team. 
But the result should be nothing more than a piece of statistic for the Indian football fraternity. This crop of boys have dared the nation to dream with their lion-hearted performances against the best in the world.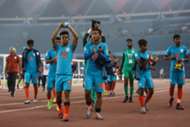 We've seen several outstanding players to eagerly anticipate and chart the progress of - Jeakson Singh who scored that historic goal against Colombia and impressed in midfield in a No.6 role. He looks set for a bright future, given his calm and confident outings so far. Central defender Anwar Ali who is quite possibly the find of this tournament for India.
Dheeraj Singh Moirangthem, who made the entire Delhi stadium chant his name with his inspiring goalkeeping, and Boris Singh, whose energy and dynamic running down the right flank has been a joy to watch, are all exciting talents. 
These boys have got a taste of what to expect in a world class stage and next time such an opportunity arises they will be that much the wiser. Now what matters is that these boys continue their progress together and make the step up to the next level. All India Football Federation's (AIFF) move to band them into a team and play them in the I-League is a welcome move in that regard. A fire has been lit in the nation's footballing belly by Luis Norton's boys. Now it is up to the administrators to ensure it blazes on. 
2017 will go down in Indian football history as a landmark year and India's first ever appearance in a World Cup should end up as a stepping stone for the game to develop. But It is a gradual process. However, the performance of this team makes us hope and dream. Like somebody once said in a popular movie, 'Hope is always a good thing!'