Geylang International
Geylang International's 12th man; the Ultras Eagles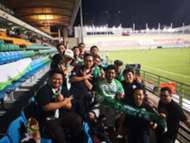 As I rushed towards Singapore's very own Wembley (Jalan Besar Stadium,) to catch the clash between Young Lions and Geylang International, I was greeted by a deafening chorus of:
"Geylang Boleh"
"Geylang Boleh"
And adding to my bemusement was the fact that I have yet to enter the stadium but still could hear the voices and drums being beaten clearly. However anyone who has been following the local league will tell you that is the norm with regards to the boisterous display from the Eagles' fans.
In an overly sanitised league, Geylang's fans are a breath of fresh air. Provocative and self-deprecating they are truly a bunch of men and women that put on a colourful display for all to see. None of which encapsulates the aforementioned sentence than the Ultras Eagles. A group compromising of hardcore supporters of the club, they are the true leaders of Geylang's 12th man.
Decked out in their own customised shirt with the Ultras Eagles logo proudly emblazoned across, these guys provide a genuine and unrivalled live football experience. United by self-deprecating humour, the group never fail to turn up at every game, consigning the fact that every local is apathetic towards the local game, to the bench.
With these guys in town, Geylang always deliver a lively, no-frills banger of an atmosphere as I found out myself. It truly was inspiring to see such support for a local club. Drums, tambourines, huge flags and scarves; you name it they have it. All the tools required of an ultra were present as the Ultras sought to create a European like ambience; where passion is the prevailing quality.
My ear suffered a little more as a crescendo of loud Geylang chants engulfed the Jalan Besar when the club scored its third goal to condemn the Young Lions to a defeat. I regretted sitting behind the Ultras but not the experience. For 90 minutes they continued to swear at every decision that went against their team. For 90 minutes, they drummed and sang, egging their team on a humid night, where most Singaporeans would be curled up in bed, with the air conditioner on full blast.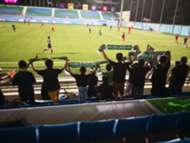 But not these guys, the Ultras got their reward in the end as the Eagles emerged victorious. However in my eyes, it was clear who the winners were. In my book they are the true heroes. As they say in Geylang "You can't buy history," and you certainly can't buy these kind of fans.