Yahoo Sport's new daily video series; 'The 32', will allow Singaporean fans to get their latest World Cup fix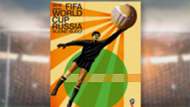 Yahoo Sport will bring the World Cup closer to football fans with a global daily video series presented by sports journalist and broadcaster Reshmin Chowdhury and broadcaster Toby Tarrant.
'The 32' will stream live on the Yahoo Sport app and sg.yahoo.com at 3.30pm (Singapore Time) every match day during the tournament in Russia, making 'The 32' the perfect place for your football fix on the move. The series will also be available to fans around the world via Yahoo's international editions. Each episode will be available immediately following the live show to stream online or via the Yahoo Sport app, and will feature big name guests from across the world of football.
Filmed in front of a live studio audience including fans from, and supporting, each of the 32 participating nations, the series promises to bring insight, analysis, irreverence and fan views. Alongside the latest football news from the tournament in Russia, 'The 32' will bring fan culture and flavor direct from the venues in Russia with reporter Peter Hall as well as fan reactions in London. The studio in London will welcome big name guests from the world of football, who will discuss the major tournament news, results, team selections and gossip, whilst the team behind live show and podcast Jim & Dave Have Lost The Dressing Room, Jim Daly and Dave Bibby, will bring their unique take on the tournament.
For Singaporean football fans this will be another platform where they are able to receive extensive information on the tournament. Moreover with the expert analysis provided by the people involved in this initiative, they will be better equipped to understand what is going on. Even for non-football fans looking to understand the game, this is the perfect platform to do so. Moreover whether on mobile or desktop, audiences can still access the show and get up to speed with the latest happenings in Russia.
For your daily football fix, visit Yahoo to watch 'The 32' live every day throughout the tournament on the Yahoo Sport app and sg.yahoo.com at 3.30pm. You can also follow #The32 via @YahooSportUK.