Indian Super League
Germany legend Lothar Matthaus reveals ISL offer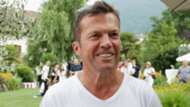 After an illustrious career as a footballer and a few stints as a coach, Germany legend Lothar Matthaus is a busy man these days.
Matthaus is presently an ambassador for German top-tier football league Bundesliga. His last coaching stint, with the Bulgaria national team, ended in 2011 and although he wished to return to coaching, he has had his hands full since then.
Recalling an offer from an Indian club in 2014, when Indian Super League (ISL) commenced, the former Bayern Munich midfielder told Goal , "About three or four years ago I had a couple of telephone calls from some agency from India who wanted me like a coach for a club in India. But because of my other contract, I was not free and I had to say no to them.
"I was interested to be in India. I like to travel and I'm always ready for a new experience. For sure, I was proud that they called me but it was not the right time. It's the same now. I have so many contracts and obligations to fulfil.
"I work for TV channels, I work international media, I have jobs like the one today to be an ambassador for the Bundesliga and to come for a couple of days to India. I'm very happy to be here. For this, I have no time to be a manager or a coach. It's a daily job and my other contracts don't give me the rights to be a coach anywhere."
In his third visit to India, the German great attended the Reliance Football Youth Sports - Kochi City final at the Panampilly Nagar ground in Kochi and later enjoyed the ISL match between Kerala Blasters and Jamshedpur which ended in a 1-1 draw at the Jawaharlal Nehru Stadium in Kochi.
The former FIFA World Player of the Year pointed out that he was pleasantly surprised by the support the teams in the FIFA U17 World Cup in 2017, which India hosted, received.
"India is very big with a large population. This is not my first time here. I was here eight years ago in Kolkata before the World Cup 2010. I was on the trophy tour with FIFA and Coca-Cola and then eight months ago I had a TV show here with a couple of sports guys in India. I met the chess world champion, Viswanathan Anand. (He is) a very nice guy.
"We cannot follow Indian football like maybe you can follow the German, English, Italian or Spanish football because we don't have the games in Germany, but I saw the U-17 World Cup last year in India.
"I was surprised how so many people were supporting teams from all around the world. Not only the home team, teams from England, Brazil. I think this was a great advertisement for Indian football because everybody saw that Indians like football, have a passion for football and support football players."