World Cup
When Germany, Spain and Messi go home early, we're left with Sweden v Switzerland borefests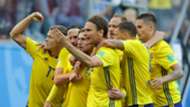 Update the list. Now one of Sweden, Russia, Croatia, England or Colombia will be in the World Cup final.
By the end of Tuesday night you can shrink it even further, once either England or Colombia progress to the quarter-finals.
Sweden are still in the mix because they beat fellow unadventurous European side Switzerland in an uninspiring match in St Petersburg, a game that laid bare just how poor this half of the draw is.
It was not the worst game in the world but it was not the best, and it was never going to be. There were a few well-worked chances, and a few not-so-well-worked, but too often both sides were undone by dreadful finishing. The breakthrough goal, fittingly, came via a deflection.
It was a slow, patient game, as it was always going to be. These sides are here because they have been more solid than their group opponents, some of them more illustrious than others.
Sweden topped their group, with Germany bottom. Ironically the Swedes were beaten by Joachim Low's side - when you have a man advantage but play for a draw that can happen - but they deserved their place in the last-16 all the same.
And so did Switzerland, who held Brazil to a stubborn draw and outmanoeuvred Serbia, another similarly dour European team.
But games like this are the price to be paid when the bigger sides are unexpectedly knocked out. Should Germany have been here instead? No, of course not. Would it have been more fun, either in terms of performance or at least the story? Probably.
Some will argue that that is beside the point, or even wildly unfair on two teams who have come to the World Cup, done what they usually do and have done it well.
But all the same, it proves that the five - soon to be four - teams on this side of the draw really do have a unique opportunity to make the final in Moscow the weekend after next, and it is not necessarily a good thing.
Sweden could certainly frustrate whoever they face next, and whoever they face after that, although it would probably not make for pretty viewing.
And surely few people outside the country would want to see it?
They are not easy to beat - this was their fifth clean sheet in the last six games - and they will surely sit back and frustrate whoever they face in the quarters, as they did against Italy in the play-offs - when they had chances to win in Milan but looked clueless on the break - and as they tried to do against Germany in Russia.
Italy had plenty of issues, of course, and even this chaotic German side managed to win. Low's dysfunctional outfit took advantage of Sweden's negativity, and that is what England or Colombia should focus on doing themselves.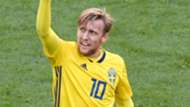 It is true that neither Gareth Southgate's or Jose Pekerman's sides have looked infallible so far this summer, or in recent tournaments, and indeed tonight's winner may not look particularly impressive even in victory. They have no divine right to make the semis, of course.
Sweden picked off a wasteful Mexico and that will be of concern to tonight's winners in Moscow, especially as both have question marks against their own abilities.
How good are England? Having beaten Tunisia and Panama and then lost to Belgium in a glorified friendly, it is hard to say. They are going in the right direction, certainly, but how close to the finish line are they?
It is similar for Colombia. They have all the flair you would expect of a South American side but they are generally solid at the back, which will help if the trio of mavericks behind Radamel Falcao have an off day.
Both sides have at least shown a determination to attack this summer and the hope is that they will stick to that and even get an early goal, preventing Sweden from digging in and providing another dull spectacle.
This is the World Cup after all, exciting football is what most of us want to see.
Consider this: Colombia went all out for the win with 10 men against Japan, only to come unstuck and lose. Sweden dug in for a draw when Germany went down to 10 men and they lost as well.
Some say it's better to die on your feet than live on your knees, but Sweden sank to their knees and died anyway.
The pattern of the next game, then, is surely set already. If England and Colombia can find the inspiration to see off Jan Andersson's team then they will sense a real opportunity to go all the way. If not, they should not be in the semi-final, and the Scandinavians will deserve their place.
That, however, would be a worrying indictment of this side of the draw, especially as Russia and Croatia have squeezed through on penalties, and the quality of the games to come.
On Friday it will be France v Uruguay and Brazil v Belgium, so most of the best and exciting teams will end up knocking each other out by the start of the weekend.
Whichever four teams play on Saturday have a lot to live up to.