African All Stars
Fulfilled Ahmed Musa has earned the right to take the money with Al-Nassr FC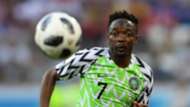 ---
COMMENT    By Solace Chukwu    

Follow on Twitter
---
Not many footballers get to be their country's all-time World Cup top scorer at the age of 25. Not when that country has made every Mundial but one since 1994. For Ahmed Musa, this has been a mixed summer: of pride and rebirth, and yet one of expiration.
With a move to Saudi Arabian side Al-Nassr FC finalized, the European career of the former Leicester man would appear to have come to an end. While the Gulf has improved its reputation considerably over the last five years, a move there is still widely considered an ending rather than a new challenge, and that is what make it quite the coup for the Knights.
That a player, notionally in his physical prime and fresh from starring at the World Cup, would make the move from the Premier League to the Saudi Professional League is a real profile boost, and his transfer fee bears out this realization.
Still, it is a step down in the world, with Leicester making a marginal profit. That though is about as much as the Foxes got out of a two-year bust, one which seemed doomed from the very start by the style and personnel at the club.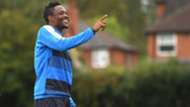 Musa is very much a system player, and can be frustrating when tasked with all-round play. As such, he is best deployed either as the spearhead in a front two, or on the left side of the attack in a 4-3-3. Having come off a wildly successful and unprecedented season, romping to the title with a 4-4-2 shape, Leicester were always unlikely to change.
The upshot of that was that Musa had to compete with club talisman Jamie Vardy for a spot upfront—both being too similar in terms of movement to play together, and the Nigeria international lacking the work rate of regular partner Shinji Okazaki.
Ahmed Musa has excellent movement, but is at his weakest coming toward the ball. Not sure how he'd do in a 4-3-3, but it'll certainly be an instructive watch!

— Solace Chukwu (@TheOddSolace) March 27, 2018
That, also, was a losing battle, and perhaps the former Kano Pillars man would have been the big beneficiary had Vardy not forcefully rebuffed Arsenal's interest that summer.
Burden of record fee may be gone, but #UCL performances will define Musa at #LCFC. My piece: https://t.co/Yb9gQu4Vm1 pic.twitter.com/u9RUBFMOsz

— Solace Chukwu (@TheOddSolace) September 14, 2016
In the meantime, Musa set about proving he remained a quite useful attacker within the right system.
The goals returned following a loan move back to CSKA Moscow, who incidentally played a 3-5-2, and when Nigeria reverted to that system at the World Cup, it was he who emerged as the Super Eagles' key attacker, looking completely reinvigorated.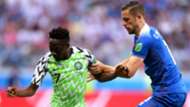 It marked something of a turning point for a player who has often been derided in the national team, and whose inclusion in the World Cup squad was dismissed as a sop (even, in some quarters, a nod to affirmative action). A brace in consecutive World Cups means his legacy will be a kinder one.
It is ironic then that, just when he seems to have finally shed the toga of pariah, he has made a move that, on the surface, takes him out of contention with the national team.
That has been the gist of much of the surprise at the destination: the stigma surrounding the Middle Eastern leagues is strong, and bound to weigh on the minds of national team coach Gernot Rohr.
Aside the preliminary concern regarding the profile and relatively weaker visibility of the Saudi Professional League, there is the matter of its competitive level, which is of course lower than in Europe. Whether or not that is enough of a factor to put Rohr off, considering his proven preference for a certain amount of experience in his squad, remains to be seen.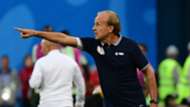 Perhaps the general sense of confusion surrounding the choice of Al-Nassr FC overlooks one salient consideration: that of motivation.
Musa may only be in his mid-20s, but this is a player who has won an Africa Cup of Nations, starred for his country at two World Cups, and held the record (albeit briefly) as the highest goalscorer in a single Nigerian league season while only aged 18.
Nigeria's last three World Cup goals have been scored by Ahmed Musa. Love him or hate him, he's now Nigeria's all-time top goalscorer at the World Cup, with three.

— Solace Chukwu (@TheOddSolace) June 22, 2018
His achievements to this point ought not be understated.
Also, players who bloom early tend to fizzle out much earlier. Michael Owen was a prodigy in his teenage years, but was more or less done by his mid-20s, same as Ronaldo (the original one). Perhaps, rather than pointing to the beginning of a peak, those bursts in Russia signify instead the beginning of a slow descent.
It might seem too early, but having achieved as much as he has already, his growing family is understandably now a priority. With the wages on offer bound to significantly outstrip what he was getting at Leicester, this is a decision about which there can be no regrets.