Kurt Zouma
France have maximum ambition to win the World Cup and I want to be part of it - Zouma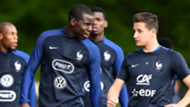 Kurt Zouma has no hesitation in saying that France have qualified for the World Cup to win it and he believes his side fear no one ahead of Russia 2018.
On Friday France learned they will face Peru, Denmark and Australia at the tournament in Russia and Zouma hopes to be there as he has recently made Didier Deschamps' selection after a long spell out with a knee injury.
The 23 year old seemed very confident when talking about his side's chances as they rank among the favourites to win it, alongside the likes of Brazil, Spain and Germany.
"Of course, we have maximum ambition," Zouma told Goal . "You see that we have a very very strong team. Of course we can win it. We can win it. We have to do it. With the team we have got, there's no choice.
"We are always confident when we play but the thing is there are other teams that are strong, definitely. We have to trust ourself, when we play games we have to be confident and that's it. We know we have a strong team.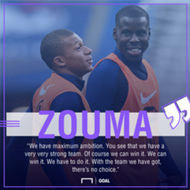 "Nobody talks negatively about France. We have good players everywhere, a strong squad so we have to show them on the pitch. We have good quality in the squad, they are my friends also. You can see that in the squad, everyone talks to each other.
"A good squad and very very friendly people. I think now, in football, there's no age. Now we are ready to win it and that's it."
Zouma was called up to France's training camp in Clairfontaine as Deschamps showed that he had trust in the Chelsea loanee, despite his recent injury record.
France have an embarrassment of riches in all positions on the pitch. Tiemoue Bakayoko and Anthony Martial are two players who have recently missed out on call ups but Zouma is confident he can convince Deschamps to give him a place in the squad, despite a host of talent competing to play at centre back.
"I was really delighted. I didn't expect that [I would get called up so soon]. When I arrived, he told me 'you need to play. You need to play a lot of games.' That's why I came here [to Stoke City], to show I am ready for the World Cup.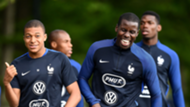 "I think yes, the French squad is very very competitive. We have got big players from big clubs everywhere. The thing is for me to keep playing as I am doing. I hope I will go to the World Cup. It is a target, I came here to play and then go there. So I think I need to keep playing as I am doing but my target is to go there, definitely.
"It is hard, there's competition everywhere. We've got a lot of players. Strong players, good players. That's why the manager is lucky because he has too many players. He has to make choices. Us players, we have to play well to show we are ready for that.
"I do my game and normally there is no problem and I will go there to the World Cup but I feel confident about that. Let's see what happens.
"Everybody is scared of France!"

Kurt Zouma says Les Bleus' goal in Russia is simple: win the World Cup... pic.twitter.com/zABkDIhau8

— Goal (@goal) December 1, 2017
Zouma has tasted international glory at youth level, winning the U20 World Cup alongside the likes of Raphael Varane and Paul Pogba. He is happy that so many from that squad have gone on to compete for spots at Russia 2018.
"It was a nice time. I was playing with players one year older than me because Varane was with the first team so I went with them. It was a very very nice competition. It was long, one month and a half but it was a really really nice competition. I went to the final.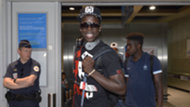 "I played with Paul Pogba, [Geoffrey] Kondogbia, [Samuel] Umtiti, all of them and we had a really strong squad. I think we deserved it because we played well in this competition. I think we lost one game against Spain but then we didn't lose and we won. We were very, very, very good.
"Of course, now it is crazy because life goes quick. We are all together in the World Cup and almost everybody is in the first team now. That shows that we had a very very good squad."