African Nations Championship
FKF: Politics to blame for Chan 2018 failures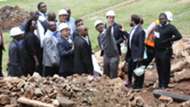 Football Kenya Federation has admitted that Kenya was unable to convince Caf not to take away the Chan rights.
While reacting to Caf's decision  to strip the country of the hosting rights, FKF boss, Nick Mwendwa said that the current political temperature in the country made it impossible to please Caf to stick with Kenya.
Kenya is set to have a repeat presidential poll on October 26, just three months before the tournament kicks-off in January and Mwendwa pointed out that the political uncertainty was a major contributing factor as to why Caf snatched away the rights from Kenya's hands.
Early this year, Gabon hosted Africa Cup of Nations finals despite heightened political temperature after a highly disputed presidential election yet Caf still went ahead to grant the West African country the chance to host the same.
"We didn't agree with them but that's the decision. We had a dissenting voice because there are other countries like Brazil and Gabon that also had other issues but they still went ahead to organizer bigger tournaments," said Mwendwa.
Caf also cited poor preparedness by Kenya in putting up the needed infrastructural development like hotels, stadia as well as untruthfulness from Kenyan Government.
Meanwhile, Mwendwa played down fears that Kenya will be slapped with sanctions for failure to host games. "There is no sanction. It was not our own making. If anything, we are discussing being given another tournament."