Liverpool
Firmino sorry for setting 'bad example' after pleading guilty to drink-driving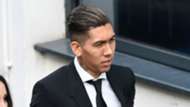 Liverpool's Roberto Firmino has "apologised without reservation" after pleading guilty to a drink-driving charge, for which he was fined £20,000.
Chelsea eye tough move for Morata
The Brazilian's punishment also includes a one-year driving ban but the sentence could be reduced to nine months if he completes an awareness course on the dangers of taking to the road intoxicated.
The offence occurred on Christmas Eve last year in Liverpool city centre, where the 25-year-old was caught behind the wheel of his Range Rover on Strand Street above the legal limit.
He was stopped by police at 3am after being spotted on the wrong side of the road, taken to a station and was found to have "46 microgrammes of alcohol in 100 millilitres of breath", which exceeds the drink-drive restriction of 35.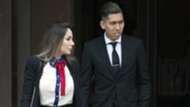 "I apologise, without reservation, to the club, the manager, my team-mates and the supporters for putting myself in this situation," Firmino said.
Transfer window winners and losers
"What I have done is wrong and sets a bad example.

"I promise to everyone in the LFC family that I will learn from this mistake, learn from this experience, and not repeat it in the future."
A spokesman for the Reds added: "The player has been disciplined by the club for his actions and reminded of his responsibilities for the present and future.

"The nature of this action will remain private, however it does not impact on his availability for selection for matches.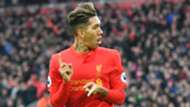 "The club considers this to be an isolated incident and a rare lapse in judgement and professionalism. We will, however, work with the player to further educate him on the dangers associated with drink-driving specifically."
Mourinho: I know my summer targets
Firmino attended proceedings with his wife, Larissa Pereira, and was represented by Michael Hogan. District Judge Miriam Shelvey oversaw the matter at Liverpool Magistrates' Court, with Lionel Cope prosecuting. 
The case, which was initially was meant to be heard on Tuesday, was pushed back with the forward featuring in Liverpool's 1-1 draw against Chelsea at Anfield.
It was then pencilled in for 10am on Wednesday, but was delayed by four hours due to the wait for a court-registered Portuguese interpreter.
District Judge Shelvey accepted Firmino's mitigation - the layout of Hanover Street is confusing leading him to drive on the wrong side of the road temporarily, his house had been burgled the night before and was in new surroundings - but maintained that he was irresponsible for driving in excess of the alcohol limit.