Johor Darul Ta'zim
Figueroa back from retirement for JDT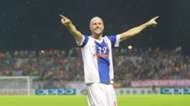 Johor Darul Ta'zim (JDT) continues to announce their squad and plans for the 2018 season but the latest one is a very surprising one. 
The Super League champions today announced that Luciano Figueroa is back in the playing squad for the upcoming season, two years after he announced his retirement from competitive football back at the end of 2015.
The 36-year-old Argentine has been back at the club in 2017 and has previously been appointed as the Club Ambassador and International Relations. He has been looking as fit as ever and has been joining in with the rest of the team during trainings.
Form is temporary, class is permanent is one of the sayings but there would be genuine doubt as to this Figueroa decision, two years on from his retirement. There's no doubt that the Argentine is still capable of producing the goods, but how often and how consistent are the questions that won't be answered until he steps onto the pitch.
Figueroa's move also puts into question as to the imports that JDT will take on for the 2018 season. In the announcement, Martin Prest has mentioned Marcos Antonio and Hariss Harun which would leave just two more places left. There were strong suggestions in recent weeks that another former Argentine, Jorge Pereyra Diaz will also be rejoining JDT, who will undoubtedly take up the other spot.
Which means it's a toss up between Gonzalo Cabrera and Gabriel Guerra as to who will be the final import for the Southern Tigers. The former's consistency in performance, especially towards the latter part of last season could very well see Guerra being the ones that says goodbye.