Sierra Leone
Fifa names match-fixing committee for Sierra Leone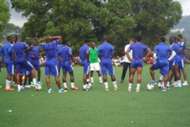 Fifa has named an independent four-man investigation committee to look into potential match-fixing in Sierra Leone.
Match-fixing is a rot believed to have eaten deep into the country's football as several occurrences have been reported, which includes a World Cup qualifier between Sierra Leone and South Africa in 2008.
Since 2014, 15 personnel [11 officials and four players] have been suspended by the country's FA pending investigation, all denying any wrongdoing.
Jean-Samuel Leuba, a lawyer, will head the four-man committee, joined by Michael Emde, Peter Limacher and Paul Scotney, a former detective with an extensive experience of investigating corruption in sport.
 "[Fifa] has established an independent investigation committee to conduct an inquiry into allegations of match-fixing within football in Sierra Leone in general and, in particular, match-fixing within the Sierra Leone FA," read a Fifa statement, signed by secretary general Fatma Samoura.
"The duties of the independent committee are to investigate the allegations and provide a comprehensive report to the Fifa Members Associations Committee in order to allow for an informed decision on the matter."