Golden Arrows
Fifa looks into Golden Arrows' request to have Miheso's case heard by Safa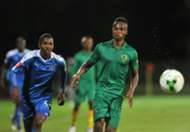 Golden Arrows are in hot water for allegedly forcing Kenyan player Clifton Miheso to sign a termination agreement at gun point. 
The South African club denied the allegation on a number of ocassions, and Miheso approached the South African Football Players' Union (Safpu) who took the matter to Fifpro and later Fifa.
Miheso's lawyer is seeking unpaid wages for the 24-year-old Kenyan midfielder and a sanction for Abafana Bes'thende.
Fifpro released the following statement on Wednesday. 
Fifa is looking into an attempt by Golden Arrows to have the case of Clifton Miheso - the Kenyan player reportedly pressured into quitting the club by two gunmen - heard by the South African Football Association (Safa) arbitration panel.
Normally, disputes with an international dimension are heard by a Fifa arbitration panel, which is what 24-year-old Miheso has requested.
The Safa arbitration body has on more than one occasion been declared unfit to adjudicate on disputes for not complying with FIFA requirements.
Fifa has written to Durban-based Golden Arrows to provide more information on why it is requesting that the dispute should be overseen by the national body.
In January, Miheso was pressured by two men carrying guns to sign a document agreeing to terminate his contract with Golden Arrows.
The armed men arrived in the club's offices where he was meeting with the club's chief executive.
Later that day, the club's chairwoman persuaded Miheso to drop a police complaint and instructed him to write a letter which she dictated stating the club had treated him well.
The South African federation has failed to open an investigation into what happened in the intervening four months, despite repeated requests by the national player union (SAFPU).
Miheso's lawyer is seeking unpaid wages for the player and a sanction for Golden Arrows.