Premier League
Fantasy Football: Vardy, Fabergas and Kane make Goal's Team of the Week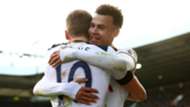 After a 13 day layoff, Premier League action returned with a bang this week. We saw struggling Tottenham dismantle Stoke, Chelsea take another step towards the title, and a Ranieri-less Leicester return to the tactics that won them the league last season. As for the players that impressed? Simply look below to check out our Goal Fantasy Team of the Week.
With March fast approaching there has never been a better time to get involved in Goal's Fantasy Football game. We're giving away an Xbox or PS4 package to the best manager every month. Think you've got what it takes to top the leaderboard over the next few weeks?
Download Goal Fantasy Football on iOS or Android now and win great prizes every week!
GK: Wayne Hennessey - Crystal Palace - 1 Game, 4 Saves, 1 Clean Sheet = 9 Points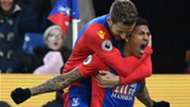 DF: Patrick Van Aanholt - Crystal Palace - 1 Game, 1 Goal, 1 Clean Sheet = 14 Points
DF: Seamus Coleman - Everton - 1 Game, 1 Assist, 1 Clean Sheet = 10 Points
Coleman is certainly no stranger to our Team of the Week. He has notched at least a goal, assist, or clean sheet in eight of the last 10 matches, making him easily the best fantasy defender over that period. This Everton defence fears no one and still hold value even against the toughest of opponents.
DF: Gareth McAuley - West Brom - 1 Game, 1 Goal, 1 Goal Conceded = 8 Points
The Northern Ireland international has been an absolute revelation this season. His six goals lead all defenders in this format and, considering he is also part of a top 10 defence, is a must own despite a tough run of fixtures on the horizon.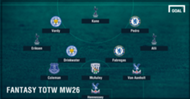 MF: Cesc Fabregas - Chelsea - 1 Game, 1 Goal, 1 Assist = 11 Points
There are few players better than Fabregas on his day, and Saturday was definitely that. His goal and assist should not have come as a surprise as he has earned one or both in five of his six starts this season. It is obviously massively frustrating that he is not starting week in and week out but, in this format, you are able to bring in players right up until kick off.
MF: Christian Eriksen - Tottenham 1 Game, 2 Assists = 8 Points
MF: Dele Alli - Tottenham - 1 Game, 1 Goal = 8 Points
MF: Daniel Drinkwater - Leicester City - 1 Game, 1 Goal = 8 Points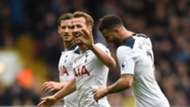 FWD: Harry Kane - Tottenham - 1 Game, 3 Goals, 1 Assist = 20 Points
Unsurprisingly, being involved in four goals earns you a spot in our Team of the Week. Stoke seem to be Kane's favourite opponent as he has now scored six goals in his last three matches against Mark Hughes' side. They won't play again this season, but be sure to circle Tottenham v. Stoke on your fantasy calendar's in 2017/18.
FWD: Jamie Vardy - Leicester City - 1 Game, 2 Goals = 12 Points
FWD: Pedro - Chelsea - 1 Game, 1 Goal, 1 Assist = 10 Points