D2D Sports' Fan Club Futsal League part of an interesting initiative to drive grassroots football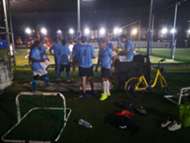 Nestled along Mattar Road is the Home United Youth Football Academy. For the average Singaporean it is just another sports and recreation centre, but for football fans it represents a venue where they can practice the hobby that they love; playing football.
Here at the academy where a range of footballing activities go on, lays the Fan Club Futsal League which is managed by D2D Sports; a sports and events management company founded in 2007, specialising in football and futsal.
The idea for the Fan Club Futsal League originated when Brotzeit; one of the sponsors of D2D Sports approached them with the intention of creating a league for the German fan clubs that patronise their establishment. Initially, Brotzeit proposed for a one day tournament but D2D Sports believed a league would be better as there would be weekly engagement and be more beneficial for the brand.
And so as the idea materialised the Fan Club Futsal League has grown steadily with positive reception as more people start to participate. What started out as a league for German fan clubs has now branched out into fan club leagues for English Premier League fan clubs and also Italian Serie A fan clubs. Significantly this highlights the popularity of such initiatives as it provides the opportunity for fans of a certain football club to get together and play football together. Moreover through football people get to make new friends and in a way it strengthens community bonding.
In the Fan Club Futsal League there are about seven to eight teams and consists of five players per team. For example for the BPL Fan Club Futsal League, one can see different English teams being represented. They range from Everton, Manchester United and Manchester City. However witnessing some of the games can truly be a spectacle at times given the high-pace, adrenaline and the emotions involved. It truly is a reflection of the English Premier League matches.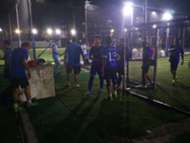 Furthermore adding to the professionalism of the league is the fact that there is a referee to conduct the game. These referees are specifically hand-picked by D2D Sports and some of them happen to be ex Singapore Premier League players who are now still getting involved in the game through such means. Besides the Fan Club Futsal League, D2D Sports serve niche leagues for different sectors of society. Examples include leagues for corporates and women too.  
There is no denying that grassroots football is an integral part of the sport and D2D Sports are just one of the few establishments who actively promote grassroots football. Though there are several challenges that they face in the initial stages of their work, they have continued to soldier on due to their passion for the game. These guys are truly an inspiration and let's hope many more can follow in their footsteps as we look to take Singapore football to a higher level.