World Cup
EXTRA TIME: Watch Russian kids reenact France winning World Cup final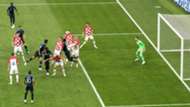 However this video was so good, and with so many South Africans talking about it, we felt you had to see it.
This video should remind you of the viral posts made with Lego reenactments, or old Bugsy Malone kids movies. This big act took place at Moscow's Sapsan stadium, and is brought to us thanks to the RT channel.
We even added you a bonus video of the real players celebrating their triumph in France.
These kids 're-enacted' the #WorldCupFinal match between #CRO and #FRA pic.twitter.com/CDuxwOkVy2

— Augustine Sang 🇰🇪 (@Sang_254) July 17, 2018
Unbelievable scenes outside the French presidential palace as Paul Pogba breaks out with the now famous N'Golo Kanté chant, Deschamps giddily joins in: "N'Golo Kanté, he is small, he is nice, he shut down Lionel Messi..." pic.twitter.com/7vAcUerZWD

— Get French Football News (@GFFN) July 16, 2018