WTF
EXTRA TIME: Waiting for the new Bafana Bafana coach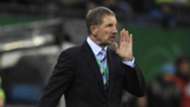 Gone are the weeks of Safa announcing that a new coach will be appointed in four days. 
So, what's up now? It seems as though talks have ended with SuperSport United coach Stuart Baxter. 
Did his 5-0 humiliation against Sundowns give Safa a rethink, or were they already put off by demands and the terms of the British coach?
On the other hand, Safa could be lining up a serious, better candidate... or they might not have a clue who's coming in next. 
Here's how Bafana Bafana fans are left scratching their heads on Twitter.
@Skhomo23 @nealcol @YesWeCrann @jontymark @gavinhunt12 @BidvestWits @OfficialPSL Hunt thinks he is a uefa coach . he I'd patronising hope he never gets to coach bafana

— moeketsi MOEKETSI (@dida_moeketsi) April 18, 2017
Till now Bafana Bafana doesn't have a coach!!

— Phiwah (@londanip_ntuli) April 18, 2017
@fabfol1 @christamcevoy Coach Pitso moisamane failed with Bafana bafana but is doing good @ Sundowns

— Zamanni Steve (@ZamanniSteve) April 18, 2017
@News24 @Sport24news he should really be the bafana new coach.

— Morgan Naidoo (@MorganNaidoo3) April 17, 2017
@robertmarawa i think it is time SAFA tells us the "criteria" for shortlisting BAFANA Bafana coach, we are in the dark

— Mthoko Cele (@07_mthoko) April 17, 2017
#Bafana Gordon Igesund: I can't comment too much. I think it's important the national team gets a coach on board as quickly as possible.

— EWN Sport (@EWNsport) April 17, 2017
This 5-0 coach to coach bafana it will be a disaster you will have to fire him and pay him millions

— T H (@ThembaHadebe9) April 16, 2017
Five Nil delivered to so called"new" Bafana coach

— NKOC (@ChiefMavovo) April 14, 2017
@DChimhavi @Julius_S_Malema ouch! Now you know how we feel abt @SAFA_net clowning instead of getting a coach and move bafana forward

— Wele Segalo (@WeleSeg) April 14, 2017