WTF
EXTRA TIME: South African football gets behind Lerato Chabangu's comeback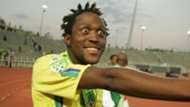 In a new story that brings hope to player's struggling to return to the professional scene, Lerato Chabangu has been given a lifeline at ABC Motsepe League club Baberwa.
The 33-year-old has signed a six month deal and is determined to prove that he deserves an extension next season.
Chabangu has also represented Moroka Swallows, Chippa United, AmaTuks and SuperSport United in the past.
You can read the support Chabangu received on Twitter.
The God of the second chance. LERATO Chabangu back in the field? Glory to the Almighty

— @mabitsela Sella (@mabitselasella1) February 6, 2019
It was reported Lerato Chabangu was struggling, but now it's a problem when it's reported he earns R8000 a month in the ABC Motsepe league.

— Oratile (@ora_tiwee) February 15, 2019
Lerato Chabangu Live on air talking about joining Baberwa FC. https://t.co/z0bp40mhJA

— Baberwa FC (@Baberwa_FC) February 11, 2019
Has anyone followed the story of Junior Kanye, Ol John Mabizela, Lerato Chabangu, Lovers Mohlala to mention but a few, these are pro players who earned "enough" but ended up with nothing, so in terms of pro soccer be it male or female how much would suffice?

— LandlessThabo Chauke (@Thibottouch) February 12, 2019
Why this pic is not trending ?

Andith the first one was trending
Feel free to do the same nakulena klk #LeratoChabangu

— Lwazi Ntanga (@LN_NTANGA17) February 15, 2019
All you need is love

Lerato Chabangu https://t.co/mJLoybRcYu

— Fhedzi Ipfi Jimmy (@FHEDZII) February 13, 2019
Jabu Pule once said the highest salary he ever got from Kaizer Chiefs, was +/-R6000.00. Now Thabiso Malatsi has also come out to say the same. Chances are the likes of Junior Khanye, Mbulelo Mabizela, Lerato Chabangu and co also earned slave wages... no wonder our stars die poor pic.twitter.com/bhaeetvFZu

— Kokwele M. Phillix 🇿🇦 (@Matome_Kay) January 25, 2019
Lerato Chabangu is crying through his interview. Hectic 💔💔

— Theloniuos Jaha (@Real_Nelson0) December 5, 2018
Few months ago a pic of Lerato Chabangu was trending on social media and all sorts of things were said about him by Twitter Journalist. FF the guy gets a team the so called naysayers are not saying fokol.Pity that we celebrate people's downfalls. @Baberwa_FC thanx 👌👌 pic.twitter.com/EzBEGJtzLt

— DumisaniKoyana (@DumisaniKoyana) February 15, 2019