World Cup
EXTRA TIME: South Africa looks forward to World Cup semi-finals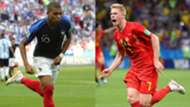 Many of our favourites are gone home, and many of us are now supporting new teams in the semi-finals. Who are you supporting?
France take on Belgium in the first semi-final on Tuesday night. Then England play Croatia in the second semi-final on Wednesday night.
Here's how South Africa's PSL stars, legends, fans and media are anticipating these two games in midweek.
@SimthoDladla @MikeMakaab my semifinal prediction are France 1-0 Belgium, England 1-0 Croatia @GagasiFMSports

— Vikani Shange (@VikaniShange) July 9, 2018
Usually player fatigue take its toll from the #WorldCup semifinals, hitting those who had long seasons challenging for the UCL or pushing for the league title. However all 4 semifinalists took it easy in their 3rd group game. France & Belgium freshest without extra-time in the KO

— Ignat Football (@IgnatFootball) July 9, 2018
Are you ready for tonight.... France vs Belgium ... I can't wait. #WorldCup #Belgium #France

— James keene (@JamesKeene28) July 10, 2018
4. Eden Hazard https://t.co/2UcxkUltid

— Tebogo🇧🇪 (@thebe_tebogo) July 10, 2018
Luka Modric https://t.co/7JjOWQAdd9

— Sazi (@SaziMthimkhulu) July 9, 2018
I said Brazil were going to beat Belgium and I was wrong.
I said Uruguay were going to beat France; got that wrong too.

In the semis, France will beat Belgium and Croatia will beat England.

Let's see how that goes...

— Zola Doda (@ZolaDoda) July 10, 2018
Belgium

— Fran Hilton-Smith (@Franzo_safa) July 9, 2018
4. Eden Hazard https://t.co/YCdvp4oRP6

— Esandu (@EdsonEsandu) July 10, 2018
England's progress in this #WorldCup reminds me of Germany in 2006. #GER were building a young team & there's similar signs with #ENG, but will the Three Lions also lose in the semifinals?https://t.co/zHCFqVONec

— Ignat Football (@IgnatFootball) July 9, 2018
Brilliant... but them can invite also Iniesta, James, Cavani all German team .... pic.twitter.com/G1Zdb6GGYj

— Alejandro A. Heredia (@AleAHeredia) July 10, 2018
Clash of the titans today, ehn!

Drop your predictions for tonight's  pic.twitter.com/41kjUi6t7Y

— Goal.com SouthAfrica (@GoalcomSA) July 10, 2018
If football was golf and golf football. Listen to golf and football commentators..

THE DIFFERENCE.. pic.twitter.com/VBdMexQvx4

— Dominic Chimhavi (@DChimhavi) July 10, 2018