Kaizer Chiefs v Orlando Pirates
EXTRA TIME: Kaizer Chiefs and Orlando Pirates fans await Soweto Derby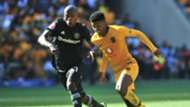 Kaizer Chiefs take on Orlando Pirates in round two of the Soweto Derby.
Bucs beat Amakhosi 2-1 in the Premier Soccer League battle of the derby recently. Thanks to the Telkom Knockout semi-final draw Chiefs got a second bite at the apple.
Can they do it this time by gaining revenge against their fiercest rivals? Or will Pirates rub it in and maintain their dominance?
Both clubs have been hoping to get back to their glory days in terms of lifting trophies, and this is an ideal chance to reach a final.
On the other hand it's the worst way to fail to reach a final. This is the one game both clubs can't afford to lose in Soweto. You can read a number of jokes from some of the fans who await Saturday's match.
Where is the SOWETO DERBY HYPE?

— THIZOZO🇫🇷🇫🇷🇫🇷 (@Mokoena_TK) November 23, 2018
Eish Soweto Derby again... pic.twitter.com/BS6EK9qUG6

— Mr Magnificent (@SpArKsMaN_SA) November 21, 2018
My so called boyfriend @MillionMnisi couldn't buy me a flight ticket to Durban so can watch Soweto derby. pic.twitter.com/5z1eKucbOX

— Sizakele Mthembu (@Syzaas) November 23, 2018
Just disappointed by the Mabhida pitch that will be hosting the #SowetoDerby this weekend. Not WC stadium quality 

— Mpho Letsholonyane (@M_Letsholonyane) November 20, 2018
Never underestimate the power of Sundowns fans!! Rhulani Mokoena has been quiet all week and has been behaving like an assistant coach!! #SowetoDerby

— Gerald Moekeletji (@GeraldWaLekhosi) November 23, 2018
Soweto Derby will be played emasimini on Saturday... This pitch 

— D Y A N I (@tdyani) November 20, 2018
I've been waiting for @coach_rulani to spice things up but dololo.#SowetoDerby pic.twitter.com/0uHa2gfhXd

— BlaqDawg (@BlaqDawg11) November 21, 2018
The Biggest Game in Africa Tomorrow @15h30 Soweto Derby :Kaizer Chiefs vs Orlando Pirates pic.twitter.com/NEGL7bFqPW

— Jizzy (@LungeloMadondo2) November 23, 2018
#TKO2018 Semi-final Presser@michocoach and Salinas ahead of the #SowetoDerby in Durban.

#TseNtsho pic.twitter.com/OtrQkUi6mS

— Thandi Merafe (@thandi_399) November 22, 2018
Will Vincent Pule rise to the occasion in the #SowetoDerby? #TKO https://t.co/EPwoSy8GK8 pic.twitter.com/Ucw0D29rdi

— Goal South Africa (@GoalcomSA) November 22, 2018
For the first time in my life I will be rooting for #HailTheChief to beat Rhulani FC , that boy has a big mouth. #SowetoDerby pic.twitter.com/UV1tGP8Jf9

— Colman (@PhotoColman) November 23, 2018
For the first time in my life I will be rooting for #HailTheChief to beat Rhulani FC , that boy has a big mouth. #SowetoDerby pic.twitter.com/UV1tGP8Jf9

— Colman (@PhotoColman) November 23, 2018
Coming Up Today:#TKO2018 #SowetoDerby Press Conference@KaizerChiefs - 12h45@orlandopirates - 13h30

Don't miss it!! pic.twitter.com/3EVkyfYoeW

— Official PSL (@OfficialPSL) November 22, 2018
Durban was gonna be this weekend but sadly I can't go ....@orlandopirates will be with you by spirit #UpTheBucs #SowetoDerby #TelkomKnockout

— Swazi Q. Dlamini (@mhlayisto) November 23, 2018
Good Morning Amakhosi #SowetoDerby #TKO2018 #HailTheChief pic.twitter.com/CGiI5kDHEz

— The Glamour Boys  (@KCfanTv) November 21, 2018
"Generally the [players'] condition in the last #SowetoDerby was not good. Now it's much better because all players are available. The fitness of the players is OK. This for me is very big positive." @KaizerChiefs coach Giovanni Solinas. #TKO2018 pic.twitter.com/KR9tPyhtPO

— Telkom (@TelkomZA) November 23, 2018