African All Stars
EXTRA TIME: Yaya Toure, Gueye, Musa lead African stars to celebrate Eid al-Adha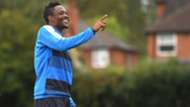 Manchester City's Yaya Toure alongside Everton's Idrissa Gueye, Leicester City's Ahmed Musa and Crystal Palace duo - Bakary Sako and Pape Souare joined a host of global stars in celebrating Eid al-Adha.
Eid al-Adha is the celebration which follows the annual Islamic pilgrimage to Mecca and the latter of the two Eid holidays, the former being Eid al-Fitr.
The African stars reveled in cheerful spirits as they shared their good wishes to their followers across social media.
Eid Mubarak 🙏🏽 #EidAlAdha pic.twitter.com/yz0EahvBnO

— Yaya Touré (@YayaToure) September 1, 2017
Eid Mubarak to all my brothers and sisters may God bless us 🙏🏾❤️ #Amin

— Bakary Sako (@sakobakary26) September 1, 2017
Allah accept our Hajj, 🙏Amīn. Nice to see many footballing brothers here this year, @AbouVDIABY included. @TheAMF @12manSports @KafoAcademy pic.twitter.com/umGzQ3Qghf

— Fred Oumar KANOUTÉ (@FredericKanoute) September 1, 2017
Eid Mubarak Everyone! pic.twitter.com/VfV73impwt

— Pape Souarè (@papesouare) September 1, 2017
September 1, 2017
EID MUBARAK TO YOU ALL 🙏🏽❤💛💚☝️🤝📿 #allahuakbar #eidmubarak #mayallahaccept #bepositivealways https://t.co/OfWcRYWIaB

— Razak.131 (@RazakBrimah) September 1, 2017
A post shared by ⚽anorthosis fc Cyprus 🔵⚪🔵 (@abdullahishehu15) on Sep 1, 2017 at 2:07am PDT