WTF
EXTRA TIME: Fans and players react to Bafana Bafana's win over Burkina Faso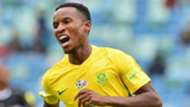 Bafana Bafana gave their 2018 Fifa World Cup qualifying campaign a huge boost with a convicing 3-1 win over Burkina Faso on Saturday afternoon. 
Stuart Baxter's men, playing in front of a relatively empty FNB Stadium, netted three first half goals, and although the Stallions scored late in the second half, Bafana held on to claim all the three points. 
After the game, Bafana players thanked the fans for rallying behind the team. 
Great win ,great atmosphere #BafanaKaofela🇿🇦🇿🇦 #GodIsGreat #TeamNike #TeamNoRest #Team16_32 #Thank You For The Love & Support Good People😉🙌🏻 pic.twitter.com/eXjeAWIwPO

— IIKHUNE3216 (@IIKHUNE_32_16) October 7, 2017
No one has the power to shatter your dreams unless you give it to them.
Congrats and let's keep going 🇿🇦🙏🏽 pic.twitter.com/8AGvGLN6Po

— Bongani Zungu (@BonganiZungu08) October 7, 2017
🇿🇦🙏🏻🙏🏻🙌🏻🙌🏻 thanks to everyone that come out yesterday to support #BafanaBafana 🇿🇦⚽️ pic.twitter.com/plqTlFwwXN

— aj15jali (@andilejali870) October 8, 2017
Congrats on the win boys @BafanaBafana 🙌🏾🙌🏾🙌🏾🙌🏾🙌🏾🇿🇦🇿🇦🇿🇦🇿🇦🇿🇦🇿🇦

— Kermit Romeo Erasmus (@Erasmus_95) October 7, 2017
Several high profile figures, including politicians, football administrators and commentators lauded the national team for their efforts against Burkina Faso. 
We thank you patriotic South Africans for supporting our winning team Bafana Bafana. We have one country with one football team. #Asijiki pic.twitter.com/TY1Q1RJ209

— Julius Sello Malema (@Julius_S_Malema) October 7, 2017
Thank you Bafana Bafana for fighting for the flag, pride and respect for our country. pic.twitter.com/4l2sCTq94G

— baba mthethwa (@hothaata) October 8, 2017
This guy is the best @IIKHUNE_32_16 pic.twitter.com/0PXsMgu4Ev

— Lux September (@Lux_September) October 7, 2017