African All Stars
EXTRA TIME: Drogba joins Pharrell to support Rafael Nadal at French Open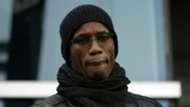 Didier Drogba joined music star Pharrel to support Rafael Nadal at his French Open quarter-final match against Diego Schwartzman.
The defending champion rallied back from 6-4 defeat in the first set with a 5-3 lead before the match was stopped due to rainfall.
Despite the halt in action, Drogba was kept in great company with Pharrell who sat beside him in the stands.