African All Stars
EXTRA TIME: Aubameyang, Zaha & other African stars begin off-season vacation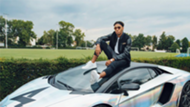 Arsenal's Pierre-Emerick Aubameyang, Crystal Palace duo Jeffrey Schlupp and Wilfried Zaha and Leicester City's Kelechi Iheanacho have begun their off-season holiday.
Following a successful campaign with their respective clubs, the footballers are exploring nature, visiting beautiful cities and reuniting with their family and friends.
Injured Mohamed Elneny has travelled back to his country - Egypt and he is recovering on the beach ahead of their participation at the 2018 Fifa 2018 World Cup.
A post shared by Mohamed Elneny (@elnennym) on May 20, 2018 at 7:50am PDT
Aubameyang who scored 10 goals in 14 appearances for the Gunners this season, looks ready for a trip in his Ferrari car with a caption 'start it up' to signal his holiday season.
A post shared by Aubameyang (@aubameyang97) on May 19, 2018 at 9:36am PDT
Crystal Palace star Wilfried Zaha is out in north America and he seems to be relaxing in the ever bubbling Miami, despite speculations about his future at Selhurst Park.
Leicester City's Kelechi Iheanacho who has been called up to Nigeria's camp for 2018 Fifa World Cup, travelled Owerri to unite with his family and friends before the commencement of training on May 22.
Ndidi who is recovering from a hamstring injury, shared of a snap of himself in a Nigerian attire with his mother. The Foxes midfielder is included in the Super Eagles' 30-man provisional squad for the World Cup.
Egypt defender Ahmed Hegazi linked up with some friends after West Brom's unsuccessful fight to remain in the English Premier League.
A post shared by ahmed hegazy (@ahmedhegazy6) on May 21, 2018 at 2:47am PDT
Leicester City's loanee Ahmed Musa extended his humanitarian gesture to people in Kano with food and money for the Ramadan period.
A post shared by Ahmed Musa MON (@ahmedmusa718) on May 17, 2018 at 1:14pm PDT
Ghana's Jeffrey Schlupp is having a beautiful time on a Greek Island.
A post shared by J.Schlupp (@jeffreyschlupp) on May 19, 2018 at 10:24am PDT